First look: iOS 6 brings Siri to iPad, adds Facebook integration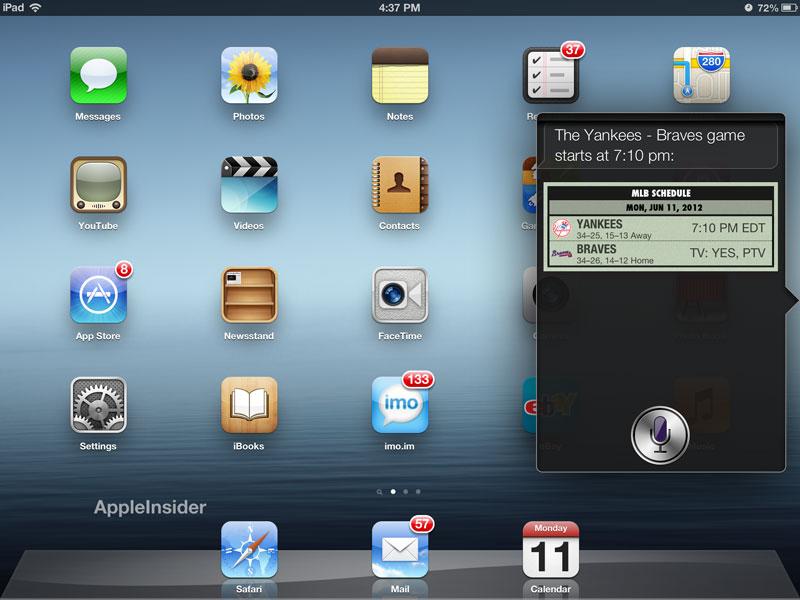 This year's iOS 6 upgrade will bring the Siri personal assistant software to Apple's third-generation iPad, and will also add system-wide integration with Facebook for iPhone, iPad and iPod touch users.
Both iPhone 4S and third-generation iPad users will also gain new Siri functionality with the launch of iOS 6 this fall. Specifically, the voice-driven personal assistant software can now check sports scores and game times, it offers the ability to reserve a table at a restaurant with OpenTable, and it also provides movie times and reviews via RottenTomatoes.
Previously, Siri was only available on the iPhone 4S, and the new third-generation iPad launched with voice dictation. But with iOS 6, users of the new iPad will also be able to use Siri.
With iOS 6, the social networking site Facebook also gains the same system-wide integration that was added for Twitter a year ago when iOS 5 was unveiled. Just like with Twitter, users sign in to their Facebook account through the iOS Settings application, and new Facebook sharing features are enabled systemwide.
Facebook and Twitter integration can be found in the "Share Sheets" button that appears throughout iOS. For example, when viewing pictures in the iOS Photos application, users can share those pictures directly to Facebook if their account info is stored in iOS 6.