'jOBS' actors seen on set at Steve Jobs' old Los Altos home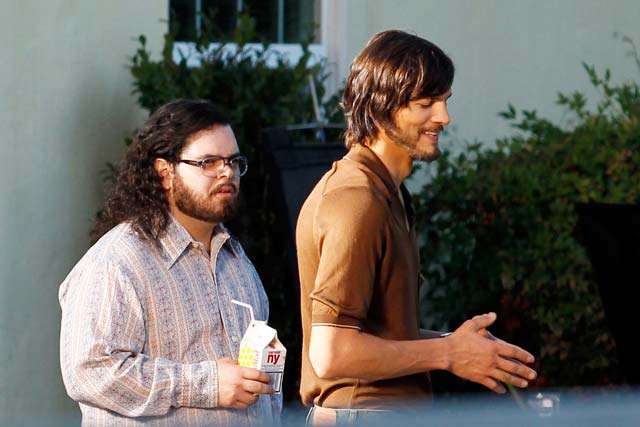 AppleInsider may earn an affiliate commission on purchases made through links on our site.
New photos show that the upcoming jOBS biopic is well underway with actors already populating their roles on-set at Steve Jobs' old Los Altos home where the first Apple computer was built.
A bearded Ashton Kutcher, who will play Jobs in the independent film, was spotted by Pacific Coast News photographers roaming the set sporting 1980s-era clothing alongside fellow actor Josh Gad in the garage where Apple was founded.
Other cast members seen on set were Matthew Modine as former Apple CEO John Sculley, Ahna O'Reilly as Jobs' ex-girlfriend Chris-Ann Brennan and an unknown actor who looks to be playing Microsoft founder Bill Gates.
The jOBS biopic is on schedule for a release later this year and is the first of two pictures to chronicle the life of the lat technology mogul.

Ashton Kutcher as Steve Jobs and Josh Gad as Steve Wozniak. | Source: Pacific Coast News
A separate, relatively big-budget Sony film has Academy- and Emmy- Award winner Aaron Sorkin (The Social Network) penning the big screen adaptation of Walter Isaacson's authorized documentary. That project has also enlisted Apple co-founder Steve Wozniak as a "tutor" who will assumedly coach cast and crew on authenticity.
Sorkin recently spoke at the D10 conference and likened his film more to a painting than a photograph. The movie doesn't yet have a solid release date.