Review: Apple's next-gen MacBook Pro with 15" Retina display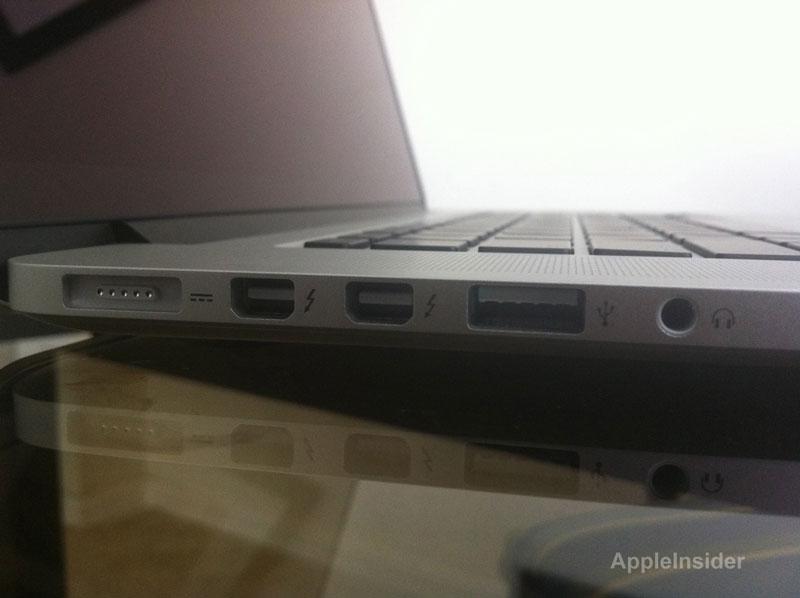 Apple's next-generation MacBook Pro represents a marriage between the design of the whisper-thin MacBook Air and the power of the previous MacBook Pro. But it's the feature that sets this notebook apart — its high-resolution Retina display — that makes this new notebook decidedly more "Pro" than "Air."
Jump to a different section
The new MacBook Pro is priced starting at $2,200 for a machine with a 256 gigabyte flash memory drive, 8 gigabytes of RAM, and a 2.3 gigahertz quad-core Intel Core i7 Ivy Bridge processor. Our test machine was upgraded to a 2.6 gigahertz processor, 16 gigabytes of RAM and a 512 gigabyte flash drive, which places the cost of this machine at over $3,000.
While the new Intel Ivy Bridge chip is the star of the show among the internal components, Apple didn't stop there. The new MacBook Pro has one USB 3.0 port on each side, two Thunderbolt ports on the left side, and an integrated HDMI port and SD card reader on the right side. The HDMI port in particular is a welcome addition, negating the need for users to carry a Thunderbolt adapter if they want to plug in their notebook to an external monitor on the go.
Even legacy FireWire users haven't been forgotten with this Pro machine, as Apple plans to offer a separate Thunderbolt to FireWire adapter that the company says will be available this July.
The forward-facing FaceTime camera has also been upgraded to 720p high definition, which is a nice improvement. The stereo speakers also sound great, and dual microphones allow for improved chat and noise cancelation capabilities.
The most glaring omission from the new MacBook Pro is the total absence of an optical drive. In our view, this subtraction is a positive. Ditching the optical drive has allowed the MacBook Pro to become thinner than ever, and Apple's built-in SuperDrives had a notorious reputation for failing. Those who still need an optical drive can plug one in via USB, or if its removal is too big an issue, MacBook Pros with the previous-generation design are still available with built-in SuperDrives.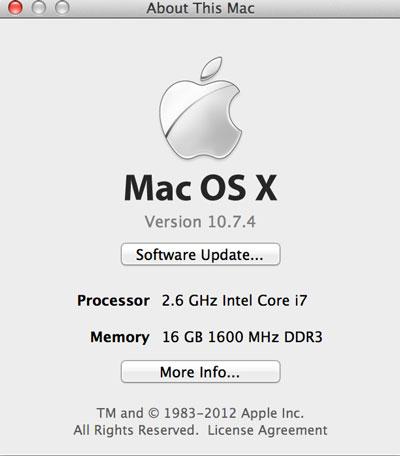 While it is noticeably thinner than the previous-generation MacBook Pro, users upgrading from a MacBook Air will definitely feel the additional heft. The MacBook Air maxes out at 13 inches and features a tapered design that gets thinner, while the new MacBook Pro has a larger 15-inch display and a unibody design with a uniform thickness that equals the MacBook Air at its thickest point. But the next-generation MacBook Pro is also 4.46 pounds, compared to just 2.96 pounds for the 13-inch MacBook Air.

The reliance on flash memory makes this MacBook Pro a much quieter and cooler machine than its predecessors. Like with the MacBook Air, it's something of a surprise when the silent machine springs to life with the sound of a whirring fan. Apple has said new fan design in the latest MacBook Pro helps to mitigate some fan noise, but it's still noticeable to us when the whirring begins.
Another noteworthy change to the new MacBook Pro design: The product name is no longer displayed below the screen. Instead, it's just a black border around the Retina display. This is yet another design cue taken from the iPad and iPhone, where the front of the device's display has minimal needless distractions and no text, allowing the user to focus solely on what they are doing.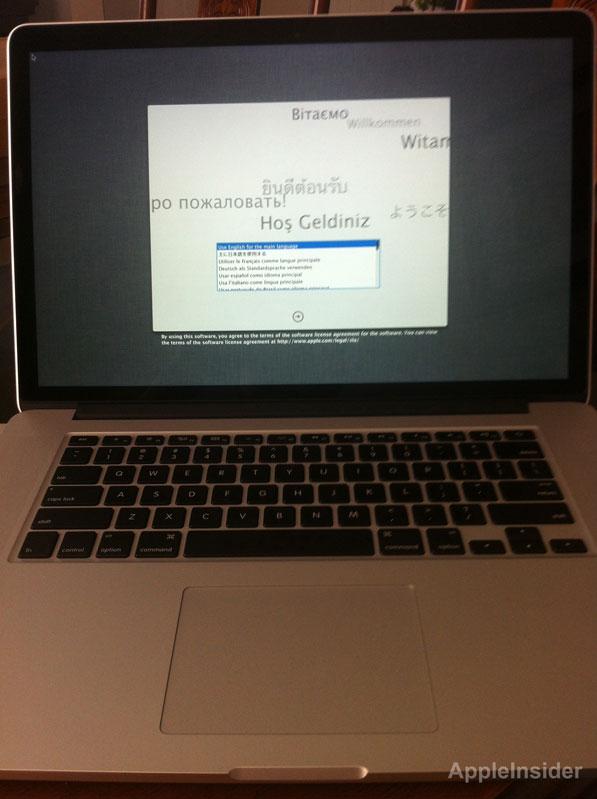 The rest of the design is what you'd expect if you've used any of Apple's modern MacBooks: The unibody construction is solid, the backlit keyboard feels great, and the multi-touch trackpad is the best in the business.
Jump to a different section
Jump to a different section
That extra size and weight of the MacBook Pro, when compared to the Air, gets you a lot more power, most noticeably the inclusion of a dedicated graphics card from Nvidia. The GeForce 650M mobile GPU, with a full gigabyte of GDDR 5 memory, performs admirably on the most demanding of tasks, making the new MacBook Pro a worthy desktop replacement machine.
We put the GPU to the test with Blizzard's Diablo III, running the new title at the MacBook Pro's native screen resolution of 2,880-by-1800 pixels and all settings on high. Anti-aliasing was turned off, because it's unnecessary with such a high resolution on the Retina display. Even with iTunes downloading high-definition movies in the background and a number of enemies on the screen at the same time, Diablo III still ran at between 25 and 30 frames per second, and the new MacBook Pro more than adequately handled what we could throw at it.
As with previous MacBooks with dedicated graphics, this new MacBook Pro has automated graphics switching, so when you're not engaging in graphically demanding tasks, it relies on the integrated Intel HD Graphics 4000.
The GPU can also drive dual display output and video mirroring. Full native resolution on the main display can be accompanied by screens with up to 2,560-by-1,600-pixel resolutions on up to two displays, driven by the Thunderbolt digital port.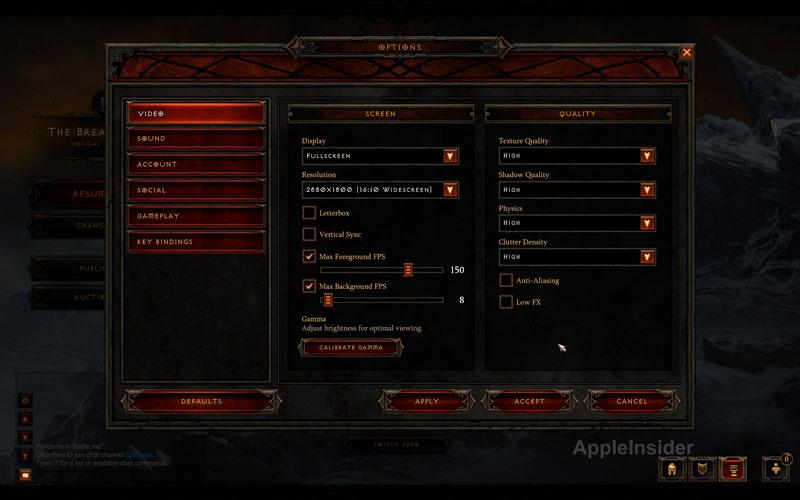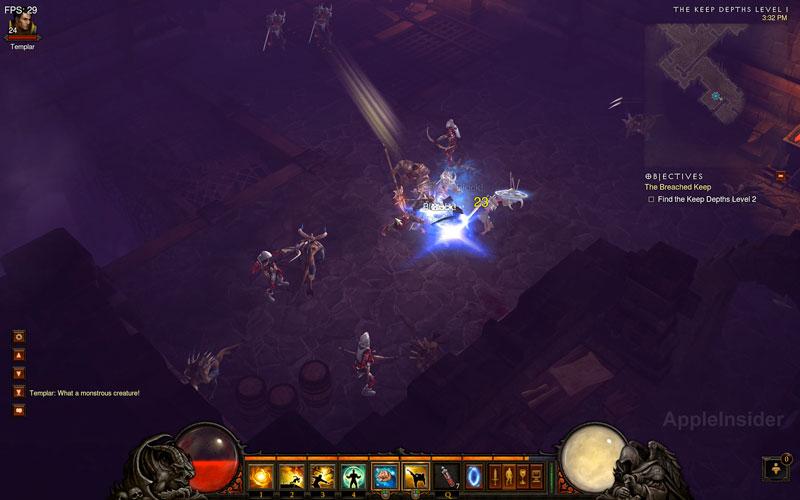 Jump to a different section
Jump to a different section
The Nvidia graphics card is put to good use in powering the high-resolution Retina display, which packs in the most pixels of any laptop screen ever. The difference is immediately noticeable. Once you boot up your new MacBook Pro and begin the setup process, you'll immediately see how the crisp, high-resolution fonts make reading text a much more enjoyable experience.
At 220 pixels per inch, this screen doesn't pack in quite as many pixels as the iPhone 4S, or even the new third-generation iPad. But Apple says the use of its "Retina" branding remains appropriate, given the distance from which users typically view the screen of a 15-inch notebook.
Any debate over the validity of "Retina display" branding notwithstanding, this screen is in every way the best we've seen on a notebook, period. The extra pixels make text and images look fantastic, the colors on the LCD are bright and vivid, and viewing angles are also worthy of considerable praise.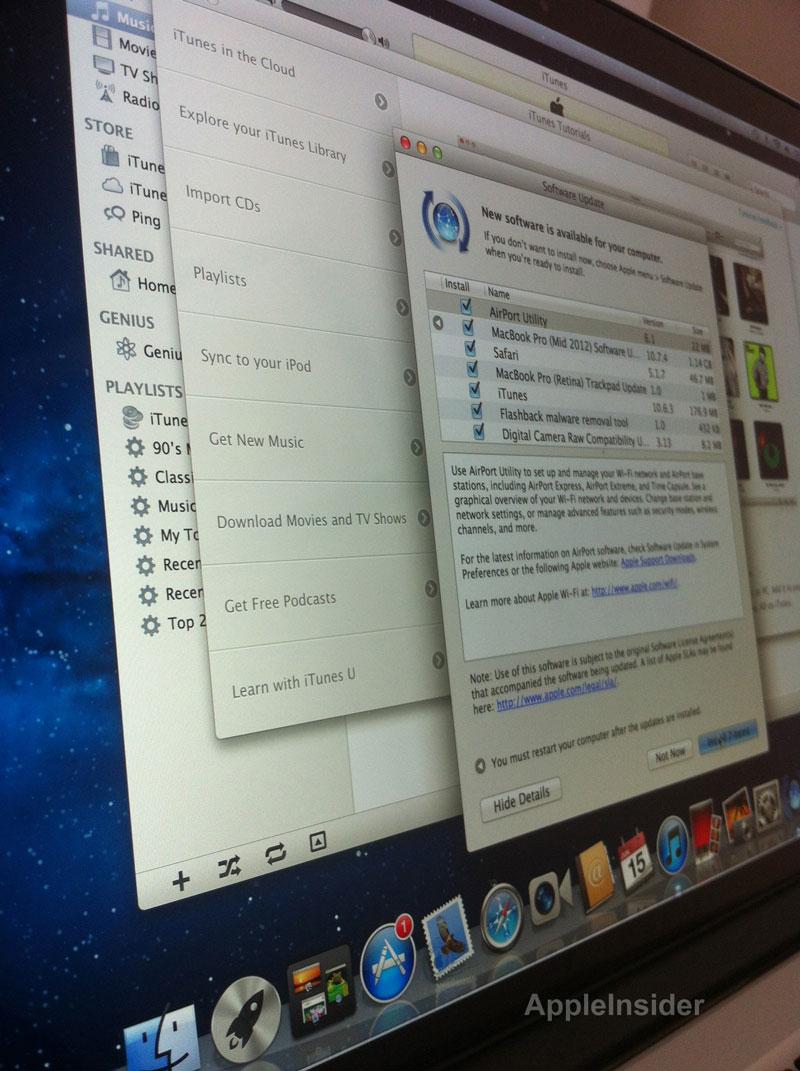 Apple has also said that a new glass-less design on the MacBook Pro screen has helped to reduce glare by 75 percent. This may be true, but glare on the display still remains noticeable in sunlight or near an open window. There is no matte option for the new Retina display, meaning you'll just have to deal with the glare.
To take advantage of the Retina display, Apple's native OS X applications have been updated, and they look great. Apple also issued updates for iMovie and iPhoto to ensure they make the most of the new high-resolution screen. Even Final Cut Pro was given a Retina update at launch.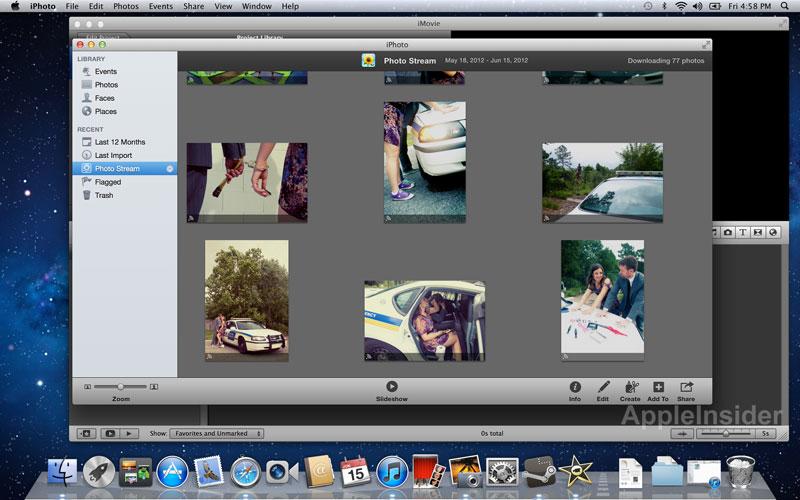 It's Pro users that will get the most out of the new Retina display. With this many pixels available on the screen, native 1080p video will no longer take up your entire screen. That means you can see every single pixel of a video being edited while having adequate additional room to get work done. The same benefits can be seen for photographers editing super-high resolution images.
The main problem with the Retina display is the same issue previously seen when the iPhone and iPad platforms made the jump to ultra-high resolution: lack of application support. Some legacy applications that don't use fonts built in to OS X look downright horrible on the new Retina display, with jaggy text often accompanies by low-resolution images.
Two applications in particular are sorely in need of an update for the Retina display are the Google Chrome browser and Steam, Valve's digital storefront and launch center for games. Presumably, this and most other software will get the necessary update in due time.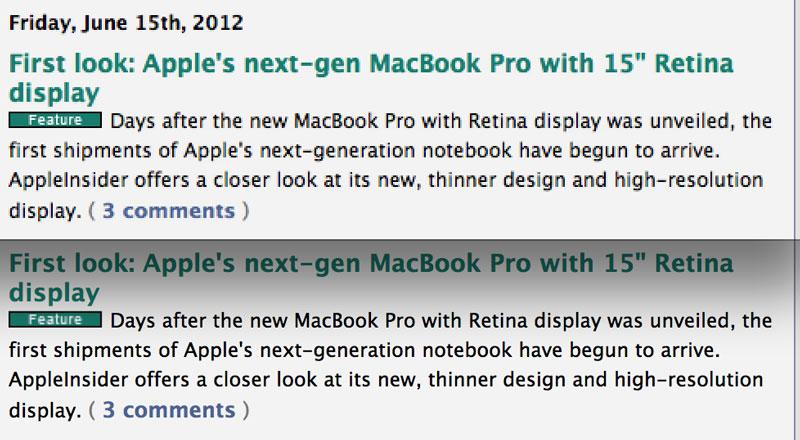 Above: Text as seen in Google Chrome. Below: Text optimized for Retina display in Safari.
But for professional users, particularly those who work in graphic design, the lack of Retina support for third-party applications is a glaring problem. It's a big enough issue that some professionals might want to hold off on buying a new MacBook Pro until the software they use most — Adobe Photoshop, for one prominent example — is updated to appear correctly on Apple's next-generation notebook.
Another downside to the Retina display is many sites on the Web look worse because they do not push enough pixels in their images. Any low-resolution content on the new MacBook Pro immediately stands out as an eyesore.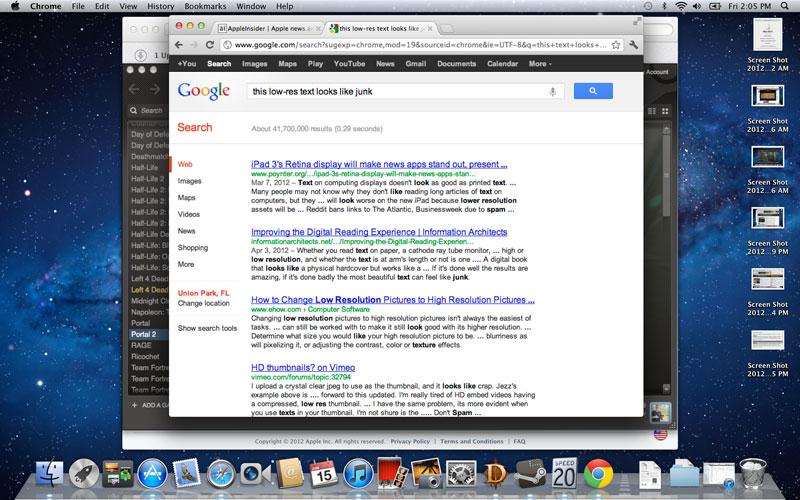 But these issues are temporary matters that will be forgotten quickly as Retina display support becomes the norm. Just as native iPad applications appeared blurry and poor on the third-generation iPad, in just a matter of weeks Retina display support had come to many of the most popular applications on the App Store. Here's hoping the same will happen with the Mac.
Jump to a different section
Jump to a different section
Apple says the new MacBook Pro gets up to 7 hours of wireless Web browsing, while with the lid closed in sleep mode, it offers up to 30 days of standby time, with its built-in 95-watt-hour lithium polymer battery.
For our own battery test, we looped 1080p high-definition video through iTunes on the machine in fullscreen mode with Wi-Fi enabled and connected, brightness at the default setting, and no other applications running in the background. Under this scenario, we achieved battery life of about 6 hours and 15 minutes.
In this test, the machine ran quietly and its internal fans never engaged to run the high-definition movies. Remaining cool and silent, the MacBook Pro performed well in the battery stress test, and the numbers suggest that Apple's own estimate of 7 hours of less-strenuous Web browsing is probably accurate.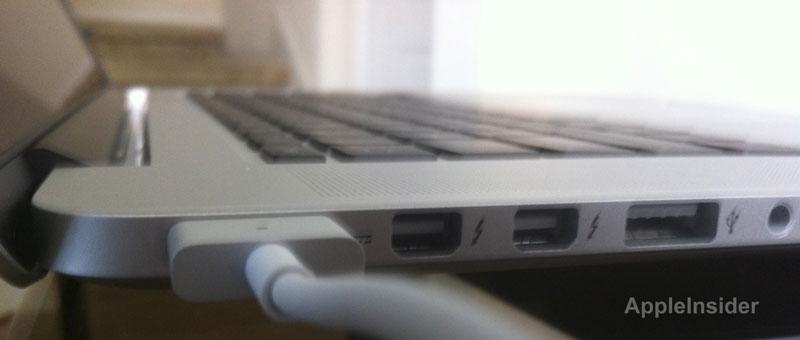 It's also worth noting that the new MacBook Pro also has a new, thinner MagSafe 2 power port, which means users with devices like a Thunderbolt display will need to buy an adapter to allow compatibility with older MagSafe accessories. With the new MagSafe 2 port, the power cable sticks out of the MacBook Pro at a right angle, rather than the previous design that was flush with the machine. We found this design change to be a minor annoyance.
Jump to a different section
Jump to a different section
This MacBook Pro ships with OS X Lion, which has been upgraded to take advantage of the new Retina display. This is the same Lion most users already know and love, but Apple's patchwork updates to the system, adding higher resolution application icons and updating native apps to higher resolutions, are merely a stopgap update to the operating system until the release of OS X 10.8 Mountain Lion in July.
Luckily, users who buy the new MacBook Pro (or any new Mac, for that matter) will receive a free upgrade to Mountain Lion when it launches this summer.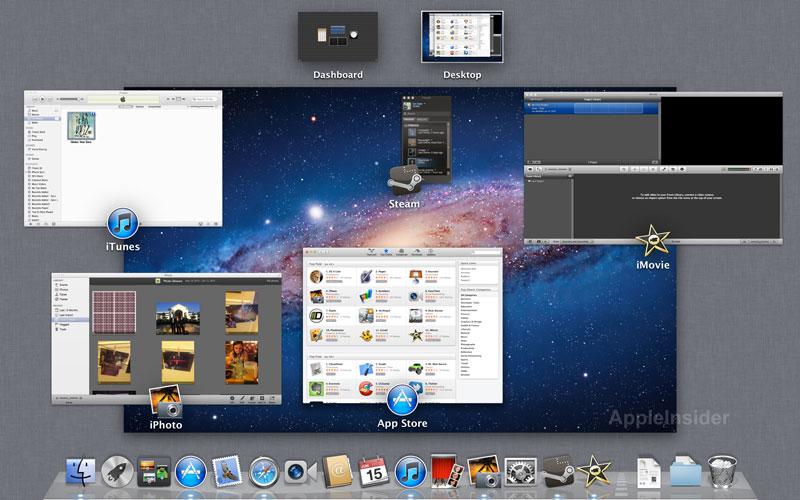 The new MacBook Pro launches at an awkward time when Apple's notebook lineup was sorely in need of an overdue hardware refresh, but Mountain Lion is oh so close to launching. While Retina display support is not a new feature in Mountain Lion, the next-generation version of OS X will add new functionality, improvements and refinements that will help take this next-generation MacBook Pro to the next level.
Lion's performance on the new MacBook Pro is greatly aided by the inclusion of solid-state flash storage standard. This gives the next-generation notebook an Air-like lightning fast startup time, as well as instant-on capabilities when returning from sleep. Once you become accustomed to flash storage, there is no going back to a traditional, slower spinning hard-disk drive.
One strange change with Lion on the new MacBook Pro is users cannot select a specific resolution. Whereas before the amount of pixels displayed by OS X could be selected, now users are just given the options of "Best for Retina display," or "Scaled." If users select "Scaled," options ranging from "Larger Text" to "More Space" are available. By default, the middle option for "Best (Retina)" is selected.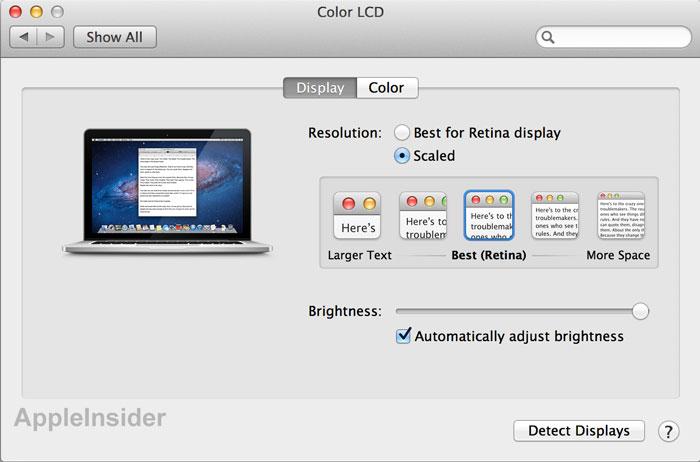 This change is understandable, as Apple obviously wants to move away from confusing resolution settings that might bewilder the average user. But having said that, this is a notebook with the word "Pro" in its name, and it's fair to assume that some professionals who work with a machine like this might want a greater degree of control over the display resolution.
Aside from this, Lion has been sufficiently modified to support the new MacBook Pro's Retina display. The system fonts, dock icons and native applications will immediately stand out and show off the improvements that the Retina display can provide.
Jump to a different section
Jump to a different section
The new MacBook Pro is the best notebook Apple has ever built to date. Its Achilles' heel, if it could be called such a thing, is its price. Starting at $2,200 for the entry-level model, this notebook is a glimpse at the future, when all of Apple's notebooks will offer power and performance, and a beautiful Retina display, inside a thin-and-light enclosure. That day isn't here yet, which is why there is only one 15-inch model for the new Retina MacBook Pro.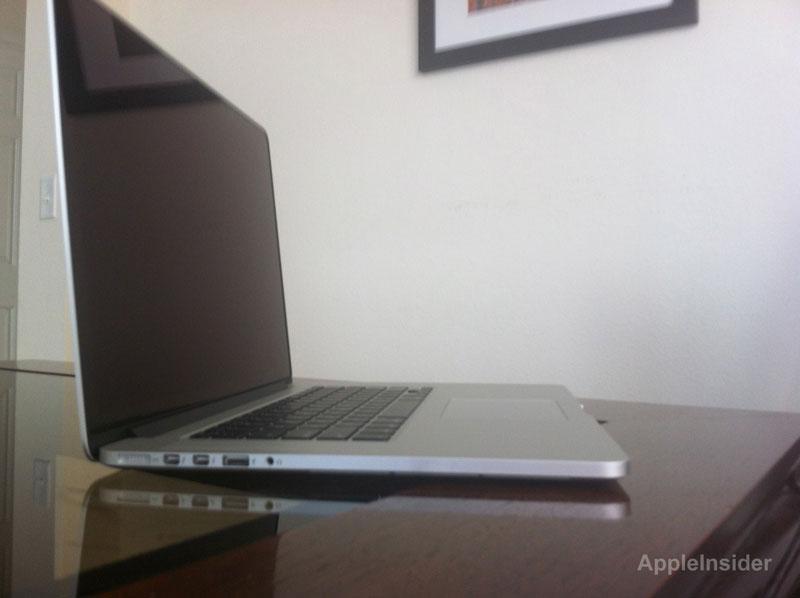 But if you want that future today, you're going to pay the price. Consider the 15-inch MacBook Pro with Retina display carries a price tag $400 more than the entry-level 15-inch MacBook Pro with an optical disc drive and without a Retina display. That extra $400 gets you double the RAM to 8 gigabytes, but it also offers half the storage. While the entry-level next-generation MacBook Pro has 256 gigabytes of flash storage, the 15-inch legacy model has a slower but larger 500 gigabyte 5400 RPM hard drive.
In our view, the additional cost and the concessions made for the new design are worth it. The only question that remains is: Can you afford it?
Score: 4.5 out of 5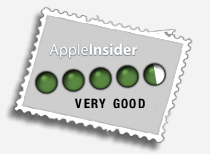 The Good
The Retina display is gorgeous and very practical for pro users
New thin design is aided by finally ditching the optical drive
Battery life is h2 even with the demands of the Retina display
The Ivy Bridge CPU and Nvidia GPU are h2 enough to justify calling this machine "Pro"
Built-in HDMI port is an unexpected and welcome addition
The Bad
Starting at $2,200, this notebook is a serious investment
Pro users, particularly those who work in design, may want to wait for popular third-party apps like Photoshop to be updated for the Retina display
AppleInsider, through its sponsor MacMall, is offering the lowest prices anywhere on new MacBook Pros with the coupon code
APPINSDRMWB33196
. The coupon code knocks an additional 3% off the retailer's already reduced pricing, which fluctuates on a daily basis along with the rest of the market. Several other Apple Authorized Resellers are also offering competitive pricing on new MacBooks as well as extending discounts of up to
$650 on 2011 models
. Full details are available in the
Mac Price Guide
.
Jump to a different section