Apple's new MacBook Pro with Retina Display can power 3 external monitors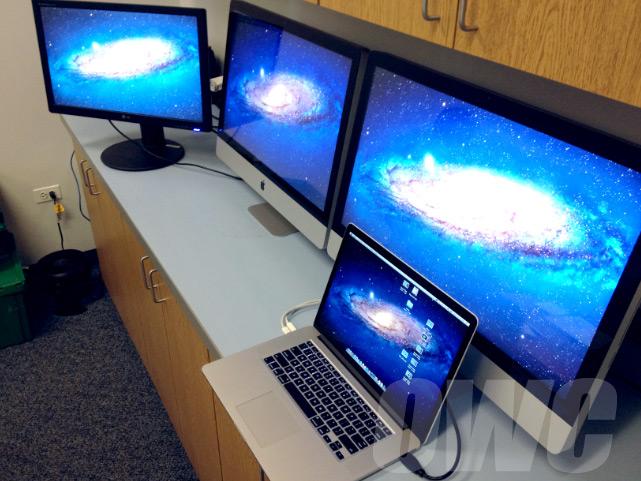 AppleInsider is supported by its audience and may earn commission as an Amazon Associate and affiliate partner on qualifying purchases. These affiliate partnerships do not influence our editorial content.
With its two Thunderbolt ports and an integrated HDMI port, Apple's new Retina Display-equipped 15-inch MacBook Pro can power up to three external monitors for an impressive total of four screens.
Other World Computing put the new flagship professional-level laptop through its paces by hooking it up to two iMacs in display mode via Thunderbolt and an LG monitor via HDMI while setting the machine's own display settings to "Best for Retina."
Even with all four displays active, the new MacBook Pro did not appear to have any performance issues. "Moving images and media didn't create any lag and we were able to play video on all four displays simultaneously," OWC wrote in a blog post about the experiment.
Counting the full resolution of the MacBook Pro's display, OWC's four-screen setup shows the laptop powering a whopping 14.86 million pixels.
Apple's own technical specifications for the MacBook Pro with Retina Display only detail support for two external displays at 2,560 by 1,600 pixels, plus the built-in display. The laptop's graphics are powered by NVIDIA's GeForce GT 650M GPU and Intel's integrated HD Graphics 4000.
The new MacBook Pro has received gushing reviews, with most noting the $2,200 price as the only major downside.