Apple's new iOS 6 Maps to feature built-in Yelp check-ins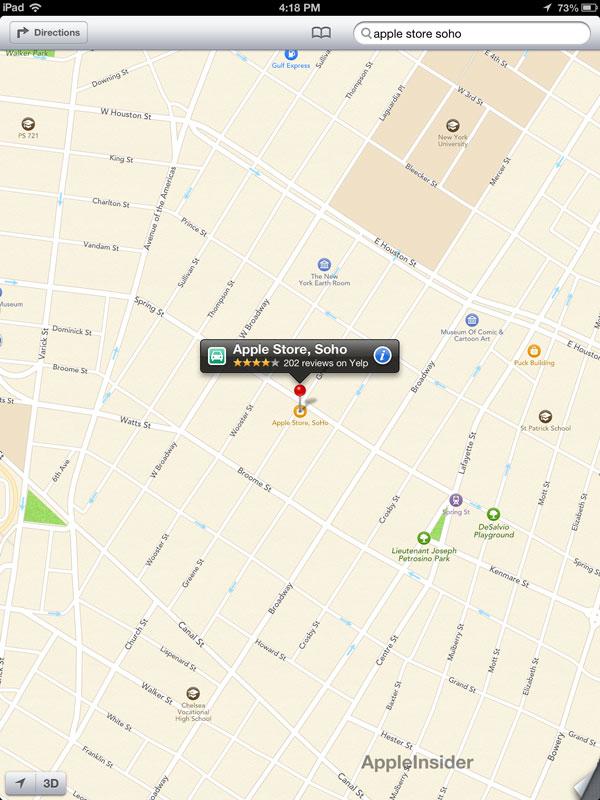 Apple's newly redesigned Maps application in iOS 6 will feature built-in support for users to check in with the social service Yelp, according to a new report.
Citing materials distributed to Apple software developers, Bloomberg reported on Monday that users will be able to post information to Yelp without exiting the Maps application and opening separate software. The documents provided to developers include screenshots of Yelp check-ins within the Apple Maps application.
When Apple unveiled its new Maps application earlier this month, it noted that integrated support for Yelp will be a part of the software. But Apple's information detailed user reviews on Yelp, and did not reveal that further support for other features on the service, like check-ins, will also be integrated.
Monday's report speculates that integration with Apple Maps could allow Yelp's check-in functionality challenge similar services offered by Foursquare and Facebook. Using the GPS on a smartphone, these services allow users to share their current location with other approved friends.
The new Maps application in iOS 6 is a major change, as Apple is abandoning Google's own mapping service for its own in-house solution. The all-new application has been built from the ground up by Apple and includes built-in turn-by-turn navigation, and anonymous, real-time, crowd-sourced traffic data.
Maps in iOS 6 also include new 3D mapping technology that Apple has dubbed "Flyover." It recreates cities and buildings in an interactive, three-dimensional layout.
The new Maps application also includes Siri integration, allowing users to ask for directions and offer estimated arrival times.