Apple's iPhone 4S remains top selling smartphone at Verizon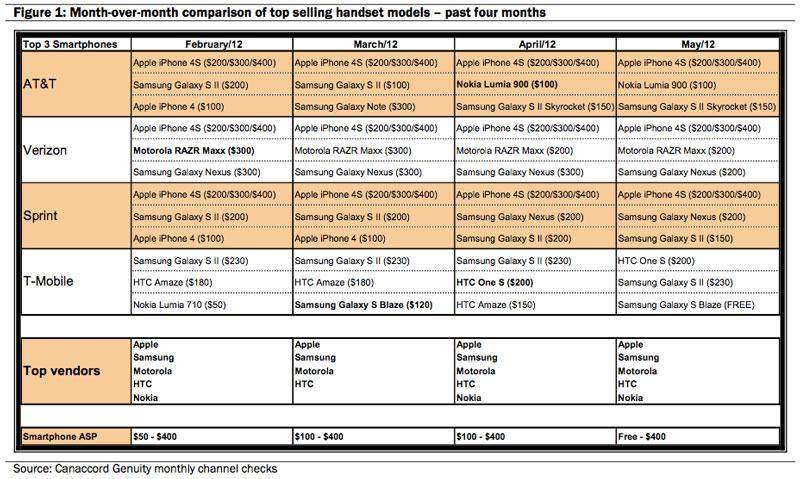 AppleInsider is supported by its audience and may earn commission as an Amazon Associate and affiliate partner on qualifying purchases. These affiliate partnerships do not influence our editorial content.
Though the Motorola Droid Razr Maxx is said to be "gaining ground," the Apple's iPhone 4S reportedly remains the best selling smartphone at Verizon, the largest carrier in the U.S.
The details were provided on Tuesday by Michael Walkley, analyst with Canaccord Genuity, to AppleInsider. He said Motorola's latest Android-based handset is not believed to have overtaken the iPhone in sales at Verizon.
That disputes what competing analyst Anil Doradla of William Blair said in a separate note issued Tuesday. Doradla's own channel checks, according to Apple 2.0, found that the Droid Razr Maxx has been the best selling smartphone at Verizon in June, bumping the iPhone to second place.
But that's not the case, according to Walkley, who said while the latest Razr is "gaining ground," it "hasn't caught iPhone." His own research has found the iPhone 4S as the top selling smartphone at Verizon, as well as AT&T and Sprint, for the entirety of 2012 thus far.
In a research note issued earlier this month, Walkley revealed that in the month of May, the iPhone 4S was the top selling smartphone in the U.S., despite what he called "gradual share losses" at each carrier. The iPhone 4S remained more popular than the Razr Maxx and Samsung Galaxy Nexus, which took second and third place, respectively, at Verizon in May.
At AT&T, the iPhone 4S also proved more popular than the second-place Nokia Lumia 900, and the third-place Samsung Galaxy S II Skyrocket. And at Sprint, the iPhone 4S topped the second-place Samsung Galaxy Nexus and third-place Samsung Galaxy S II.
But the iPhone 4S, which hit the market last October, now faces perhaps its biggest competitor yet in the form of Samsung's new Galaxy S III. It debuted in the U.S. last week with limited availability, but will eventually be available on all four of the largest carriers in the U.S. over the coming weeks.
Samsung said this week it is working to keep up with strong demand for the Galaxy S III, and the company expects to sell 10 million units to its carrier partners in July. Apple is expected to introduce its successor to the iPhone 4S later this year.