Apple explains MacBook Pro Retina Display settings with support FAQ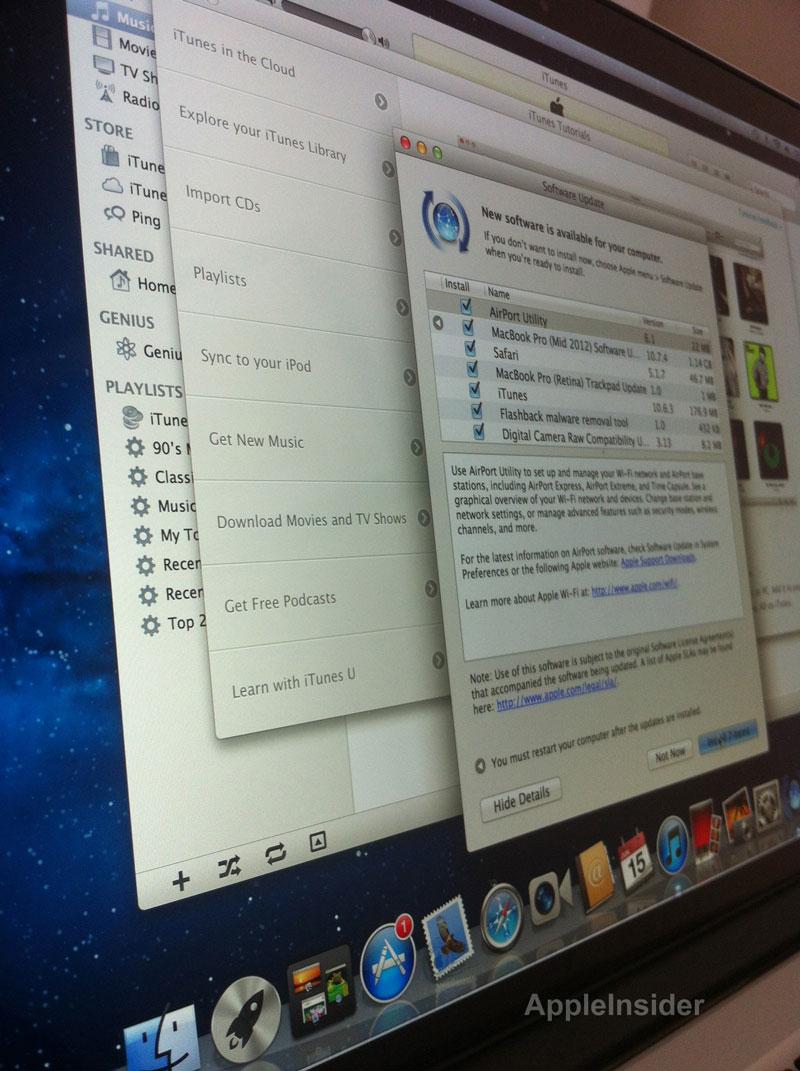 A Frequently Asked Questions page on Apple's support website offers detailed information about settings for the new MacBook Pro with Retina Display in an attempt to clear up confusion about the new screen's capabilities in low-resolution mode and Microsoft's Windows operating system.
The page, which was last modified on Tuesday and noticed by MacNN, explains the difference between scaled resolutions and the Retina setting on the new laptop.
Apple also noted in the article that all of its applications included with OS X Lion support the Retina Display.
"Additionally, iPhoto, iMovie, iTunes, Aperture, Final Cut Pro X, and Motion all support the Retina display," the page read.
Users experiencing "functional or visual issues" with applications are instructed to go into Finder to switch the application into Low Resolution mode.
"Some applications work best using the Low Resolution mode. Other applications will only run in Low Resolution mode," said the FAQ.
For applications, such as 3D games, that want to use their own resolution settings, Apple recommends the 1440 x 900 resolution. Blizzard's "Diablo III" game is one of the few titles that supports full 2880 x 1800 resolution on the new MacBook Pro with Retina Display, though the studio is working on further optimizations that should improve the performance.
Apple provided a detailed response on options for using an external display with its high-end laptop. It also offered a hint that users can hold down the Option key when clicking the Scaled button to get more resolution choices in extended desktop mode.
Windows users will be relieved to know that installing Windows 7 via Boot Camp is supported on the Retina Display. The article did, however, note that Windows on the new MacBook Pro will automatically start up with small icons because it defaults to the maximum dpi supported (144 dpi, or 150 percent magnification). Users can adjust their settings in the Windows Display Control Panel.
As the first of Apple's Mac models to sport a Retina Display screen, the MacBook Pro is leading the transition to high-dpi resolutions on OS X. The laptop has received largely positive reviews, with special praise reserved for the screen.
The new screens are not without problem, though. Scattered reports have emerged that users are experiencing image retention issues on some MacBook Pro models. Apple Genius technicians have reportedly been instructed to replace the screens, but crushing demand has left some owners waiting for up to three weeks.
If recent reports are to be believed, Apple could add another Retina Display-equipped Mac this fall in the form of the 13-inch MacBook Pro. Though some rumors have suggested that Apple would also upgrade its iMac all-in-one desktop to a Retina Display, multiple sources recently told one blogger that it would not happen until 2013.