Apple reminds customers that iWork.com will shutter July 31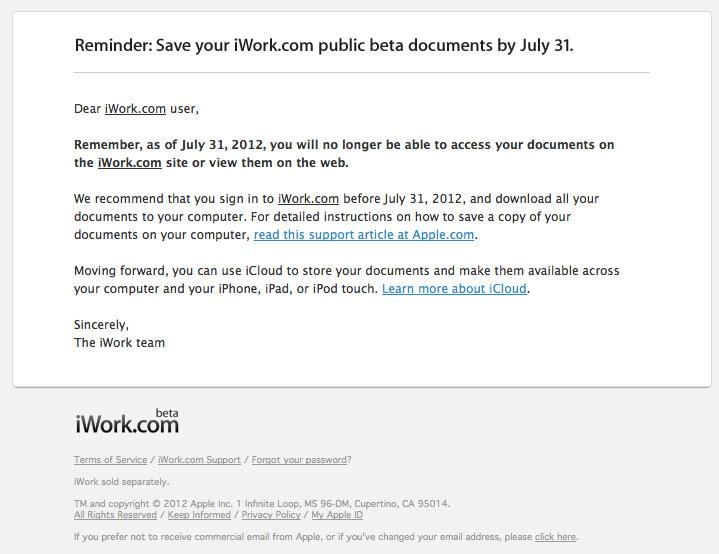 AppleInsider may earn an affiliate commission on purchases made through links on our site.
With MobileMe officially retired, Apple's next online service set to go dark is iWork.com, and the company sent out an e-mail on Monday reminding customers to download their documents by July 31.
Come August, users will no longer be able to access documents stored on the iWork.com website. Those who participated in the iWork.com public beta must back up their documents by July 31 if they wish to keep them.
Instructions are available on Apple's website informing users how they can save a copy of their documents on their computer before the deadline passes. Users are also encouraged to migrate to Apple's new iCloud service, which allows remote storage of documents and data in the cloud.
iWork.com users were first notified in early March that Apple will shutter the website on July 31. The iWork.com service first launched as a beta in early 2009, offering iWork users on the Mac the ability to more easily collaborate with others using Windows and Microsoft Office.
Since then, the iWork suite of applications has also become available on iOS, with Pages, Numbers and Keynote among the most popular downloads on the iPad App Store.
The iWork suite and iOS 5 now offer integration with the iCloud service, which launched last October. At the iCloud.com website, users can access their up-to-date iWork documents, synced through iCloud's Documents & Data service.
The full e-mail text sent out to iWork.com users on Monday is included below:
Remember, as of July 31, 2012, you will no longer be able to access your documents on the iWork.com site or view them on the web.
We recommend that you sign in to iWork.com before July 31, 2012, and download all your documents to your computer. For detailed instructions on how to save a copy of your documents on your computer, read this support article at Apple.com.
Moving forward, you can use iCloud to store your documents and make them available across your computer and your iPhone, iPad, or iPod touch. Learn more about iCloud.