Extended Apple employee hours point to rumored July 25 Mountain Lion release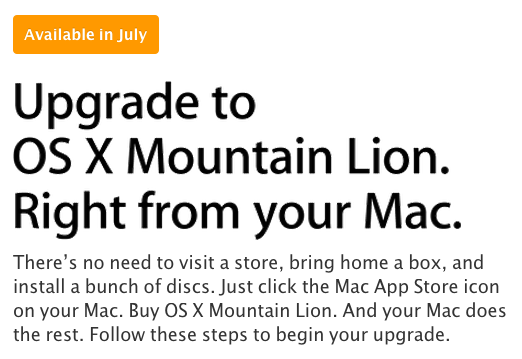 AppleInsider may earn an affiliate commission on purchases made through links on our site.
Prep work for the rollout of OS X 10.8 Mountain Lion will reportedly culminate next week when Apple employees will be be tapped for overtime beginning July 25.
In particular, corporate divisions responsible for customer service and training in the EMEA region are seeing a strong push for overtime hours for two weeks as of July 25, according to people familiar with the matter, likely portending an imminent release of Mountain Lion on or around that day.
The company will also be increasing the number of staffers available during the rumored rollout period, though the exact nature of their hire was not disclosed to them, according to those same people.
Word of the launch day arrangements comes just ten days after Apple declared OS X 10.8 gold master (GM) — a complete and ready version to be prepared for distribution. Should the product release on July 25th as expected, it would put Apple's time to market at roughly two weeks from when the software was declared GM.
AppleInsider reported in May that the Mac maker was hiring and training new staff to aid in customer support inquiries immediately following the release of Mountain Lion.
Apple's Mountain Lion webpage advertises a July launch. | Source: Apple
The new OS will feature over 200 new features including an security system that executes regular checks to keep Macs up to date with the most recent patches and updates. Some of the featured changes were outlined by AppleInsider as part of the Inside Mountain Lion series, including the iOS-style Notification Center and Voice Dictation services.
Apple last month announced that Mountain Lion would be ready for a July release, but elected not to disclose a specific release date.
When it is released, Mountain Lion will be available through the Mac App Store for $19.99. New Mac buyers who purchased their machine after June 11, 2012 will receive the update for free.