Apple's iOS most effective mobile advertising platform, report says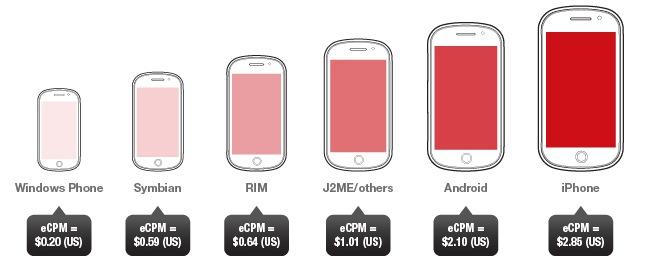 AppleInsider is supported by its audience and may earn commission as an Amazon Associate and affiliate partner on qualifying purchases. These affiliate partnerships do not influence our editorial content.
A recent study from Opera Software, makers of the popular Opera web browser, released a study on Friday quantifying advertising effectiveness across the gamut of mobile operating systems and found Apple's iOS to lead the pack.
According to the first edition of Opera's State of Mobile Advertising report, during the second quarter of 2012 iOS devices averaged an effective cost per mille (eCPM) of $2.85, managing to edge out handsets running Google's Android OS which came in second with an average $2.10 eCPM.
Marketing reports usually use the eCPM standard to measure the effectiveness of an ad or campaign by calculating ad impressions versus click-throughs.
The report looks at ad monetization from multiple perspectives within what the company calls the "ad delivery value chain" including devices, publishers, ad networks and advertisers.
As iOS and Android dominate the market, other platforms like RIM's BlackBerry and Nokia's now-defunct Symbian OS are left far behind with $0.64 eCPM and $0.59 eCPM, respectively. Coming in last among the branded platforms is Microsoft's Windows Phone which managed an eCPM of $0.20. The Java-based J2ME platform was combined with all other operating systems to average a $1.01 eCPM.
The results are unsurprising given the amount of marketshare owned by the two top mobile platforms, which equated to a combined 83 percent of the sector in the three months ending in May. Android continues to outnumber iPhones, however, and accounts for over half of the U.S. smartphone market.
Average eCPM by platform. | Source: Opera Software
Devices with larger screens with touch capabilites unsurprisingly performed better in the study while interactive ads saw more click-throughs than their static banner-type counterparts. Opera gave the example of ads built using HTML5 Canvas, which requires a mobile version of Safari 3.2 and Android 2.1 or higher to run.
Apple's iPhone garnered the highest amount of revenue for the quarter with a 43.54 percent share and also saw the most traffic with 29.88 percent. Following Apple's smartphone was all Android devices which together accounted for 26.56 percent of revenue and 24.43 percent of traffic.
The iPad stood out as the most profitable device and achieved the highest eCPM on Opera's network, averaging $3.96 which accounted for 14.26 percent of revenue and 6.86 of traffic.
The U.S. came as the most lucrative country for ad publishers and joined forces with Canada to take a market-dominating 73 percent of all ad impressions. America's average eCPM came out to $1.98, slightly higher than the global average of $1.90.
Interestingly, the Business and Finance category of ads brings in the most revenue per impression and more than doubles profits from runner-up News and Information.
Opera Software's mobile ad platform serves over 9,000 customers worldwide and tallies more than 35 billion ad impressions per month. The company's network delivered some $240 million of revenue to mobile publishers in 2011.