31M iPhone sales projected after Apple's strong showing at AT&T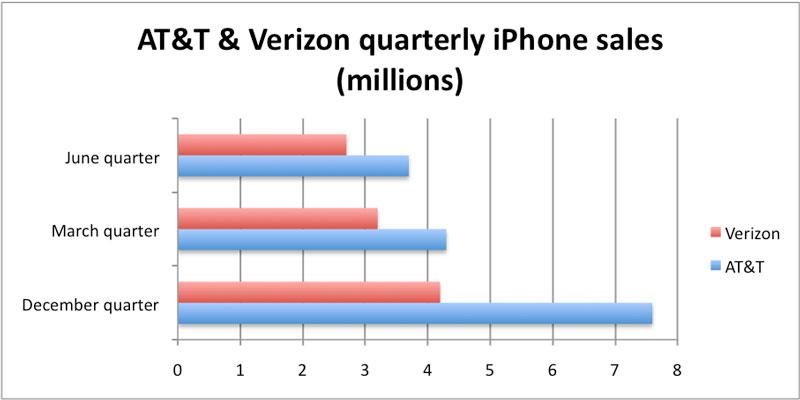 One Wall Street analyst has reiterated his expectation that Apple sold 30.9 million iPhones in the June quarter, a forecast bolstered by strong iPhone activation numbers from AT&T.
Brian White of Topeka Capital Markets reacted on Tuesday to AT&T's quarterly results, in which the company revealed it sold 3.7 million iPhones in its most recent quarter, 22 percent of them to new customers. With 5.1 million total smartphones sold, the iPhone accounted for nearly 75 percent of all smartphone activations at AT&T.
White sees Tuesday's results from AT&T as even further evidence that iPhone sales for the June quarter will be stronger than many on Wall Street expect. He has called for Apple to report sales of 30.9 million iPhones in the three-month span.
"We believe that the Street has overreacted to iPhone shipment concerns in the June quarter," White said in a note to investors. "We are modeling iPhone shipments of 30.9 million units, or down 12 (percent quarter over quarter), well above Street expectations."
Gene Munster of Piper Jaffray also said Tuesday that he believes AT&T's figures show better-than-expected iPhone sales for the June quarter. His forecast of between 28 and 29 million units is lower than White's, but Munster said he remains "comfortable" with his prediction, which is still higher than most investors.
As AppleInsider highlighted in its earnings preview on Monday, most investors believe Apple will report sales of between 25 million and 27 million iPhones for its third quarter of fiscal 2012.
AT&T's iPhone activations were down just 14 percent quarter over quarter, from 4.3 million in the previous three-month span. In White's eyes, the number is positive, given that it is better than the 16 percent quarter over quarter decline that Verizon reported last week, and that the iPhone 4S first debuted in the U.S. last October.
White also noted that the three leading U.S. carriers — AT&T, Verizon and Sprint — made up just 26 percent of Apple's total iPhone shipments in the March quarter. That's much lower than the 35-to-40-percent level of total iPhone sales that U.S.-based carriers accounted for in 2009 and 2010.
With high expectations for the iPhone, Topeka Capital Markets has maintained its price target of $1,111 for AAPL stock. White said his firm remains "aggressive buyers of Apple at current levels."
Munster noted that if global iPhone sales are in-line with the U.S. sequential decline of 15 percent, it would suggest Apple sold 27 million units in the June quarter. But as international sales of the iPhone increase, the global decline is not expected to be as great as in the U.S.
Apple will report earnings for its third quarter of fiscal 2012 this afternoon after markets close at 4 p.m. Eastern. AppleInsider will have full coverage of the results, as well as the quarterly earnings conference call with Apple executive scheduled for 5 p.m. Eastern.