Apple's AuthenTec buy already being investigated for class-action suit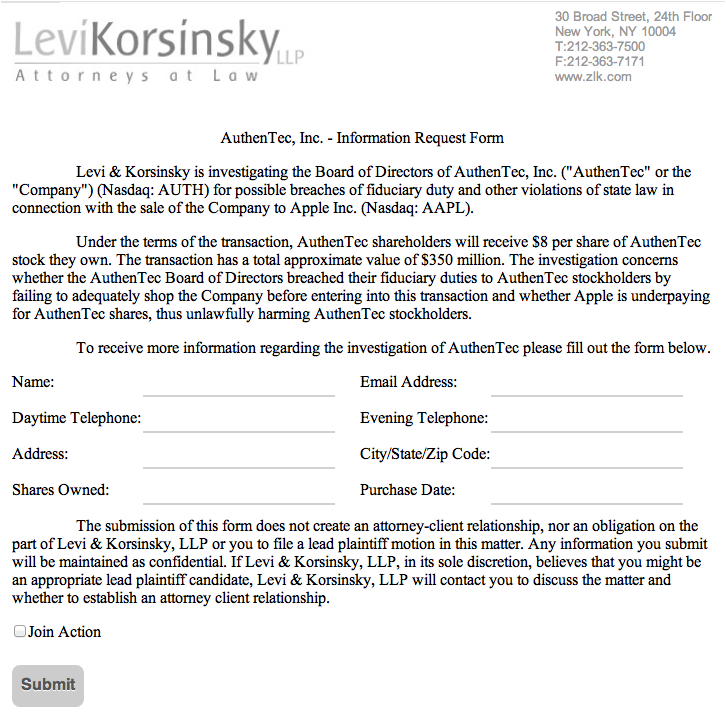 AppleInsider is supported by its audience and may earn commission as an Amazon Associate and affiliate partner on qualifying purchases. These affiliate partnerships do not influence our editorial content.
Following the announcement of Apple's purchase of AuthenTec on Friday, a pair of law firms are "investigating" the security company's board of directors for possible breaches of fiduciary responsibility.
Law firms Levi & Korsinsky and Rigrodsky & Long, P.A. are looking to wrangle shareholder class action lawsuits on allegations that AuthenTec's board of directors purposely undervalued the company in its $356 millon sale to Apple.
Documents released by the two law firms note an investigation is currently underway and ask for shareholders to sign up for representation if a class action suit is indeed initiated.
An online announcement from Levi & Korsinsky notes of the buyout: "Under the terms of the transaction, AuthenTec shareholders will receive $8 per share of AuthenTec stock they own. The transaction has a total approximate value of $350 million."
According to the firm, the "investigation concerns whether the AuthenTec Board of Directors breached their fiduciary duties to AuthenTec stockholders by failing to adequately shop the Company before entering into this transaction and whether Apple is underpaying for AuthenTec shares, thus unlawfully harming AuthenTec stockholders."
Although the investigation is directed at AuthenTec, a suit could affect Apple's acquisition of the company. Neither company has released an official statement regarding the matter.
While Apple's plans for AuthenTec remain unknown, some industry insiders have speculated the company's fingerprint-sensing technology could be integrated into a future iPhone for e-wallet authentication.