Apple component prepayments grow by $1.15B as new products loom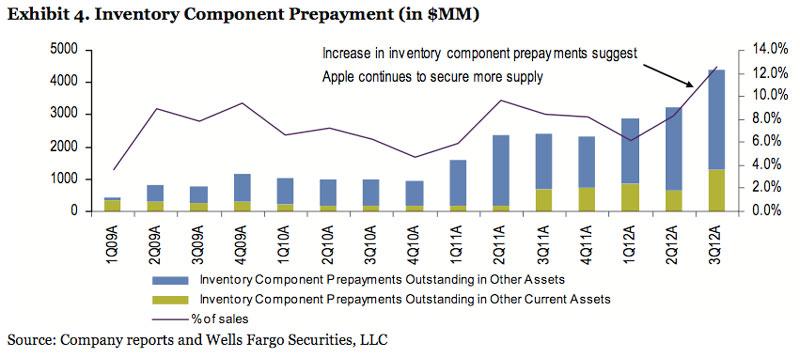 With persistent rumors of a new iPhone, smaller iPad and new iPods set to launch soon, Apple saw its prepayment for inventory components increase by $1.15 billion sequentially in the June quarter.
Apple's increasing expenses were revealed in the company's 10-Q filing and highlighted on Monday by analyst Maynard Um with Wells Fargo Securities. Growing by $1.15 billion, prepayment for components reached 12.6 percent of Apple's total sales, which he noted is the highest level seen by Apple in the last four years.
Um said the growth in expenses is a strong sign that Apple is securing component supplies ahead of potentially multiple product launches. He noted that historically, Apple's increases in inventory component prepayments have been followed by what Um called "a solid ramp-up in revenue" in the proceeding two or three quarters.
The significant growth in spending comes as Apple is rumored to be planning to launch a number of new products in the coming months. Most notably, the company is expected to update its iPhone this fall with a new sixth-generation model.
Other rumored products that could be introduced before the end of the year include a smaller iPad expected to have a 7.85-inch display, a new 13-inch MacBook Pro with Retina display, an updated iMac, a new iPod touch, and potentially even a redesigned iPod nano. If all of those products do, in fact, launch later this year, it would likely be the busiest holiday shopping season in Apple's history.
Apple Chief Executive Tim Cook said last week that widespread rumors of his company's next-generation products had a negative effect on sales of existing products in the last quarter. Cook said he has the sense that there is "incredible anticipation" for Apple's future products, while Chief Financial Officer Peter Oppenheimer said he and other executives are "excited about the new product pipeline."
One survey released last week found that there is an "unprecedented level" of demand for Apple's next iPhone, even though the product has not yet been officially announced by the company. ChangeWave's poll found that 14 percent of consumers indicated they are "very likely" to buy Apple's next iPhone, while another 17 percent said they are "somewhat likely."
In comparison, last October, 10 percent of consumers said they were "very likely" to buy an iPhone 4S, while 11.5 percent said they were "somewhat likely" to do so. The iPhone 4S went on to have a record breaking debut, resulting in sales of 37 million iPhones during the holiday 2011 launch quarter.