Apple abandoned iPhone with curved glass, iPhone mini over cost and comfort concerns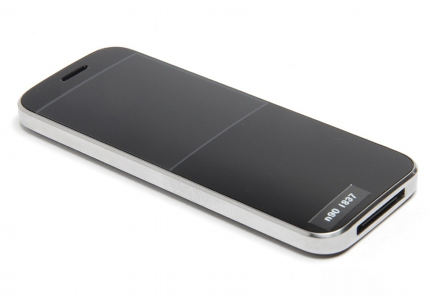 AppleInsider is supported by its audience and may earn commission as an Amazon Associate and affiliate partner on qualifying purchases. These affiliate partnerships do not influence our editorial content.
Apple's ongoing patent war with rival Samsung continues to yield troves of information on one of the world's most secretive companies, with testimony from a former design lead revealing that costs prevented Apple from launching its first iPhone design with contoured screens while concerns over consumer comfort put the dagger in plans for an iPhone mini.
The deposition by Douglas Satzger, who served as an Industrial Design Creative Lead and Industrial Design Manager at Apple from 1996 to 2008, notes that there was "strong interest" in crafting the first iPhone with "two pieces of shaped glass" but the technology at the time proved too prohibitive and expensive.
Although Satzger, who now serves as VP of Industrial Design at Intel, couldn't remember exactly why the "0355" iPhone prototype called for contoured glass to be manufactured in two separate pieces, he did note that technology "in shaping the glass, the cost relative to shaping the glass at the time, and some of the design features of this specific shape were not liked" by members of the team, and pressumbly late company co-founder Steve Jobs.
"The qualities of the glass at the time had a lot to do with it," he added. "These are models — I'm trying to remember a time frame — that were before gorilla glass and before a lot of the other factors."
iPhone prototype "0355" with curved glass.
As part of the same testimony, Satzger also disclosed that Apple had indeed developed a much-rumored iPhone mini based on the design of the original iPod mini (below, right). However, the device never made it past the prototype stage because it failed comfort and connectivity tests as a mobile handset.
"My recollection of it was that to get the extruded aluminum design that was applied to the iPod to work for the iPhone, there were too many added features to allow it to be comfortable and to work properly," he said. "If you put an iPod up to your ear, the sharp edges, because of the processes, aren't comfortable, and you can't get antennas to work properly in a fully enclosed metal jacket."
The bitter legal feud between Apple and Samsung over who copied who's mobile product designs has recently unearthed fascinating images and descriptions of dozens of early iPhone and iPad prototypes that Apple ultimately tossed aside. It's also peeled back the curtain to provide a rare glimpse into the thought and design process at one of the world's most tight-lipped corporations.
For more on the high-profile case, see AppleInsider's Apple vs. Samsung information archive.