AT&T to join Verizon in offering shared data plans beginning August 23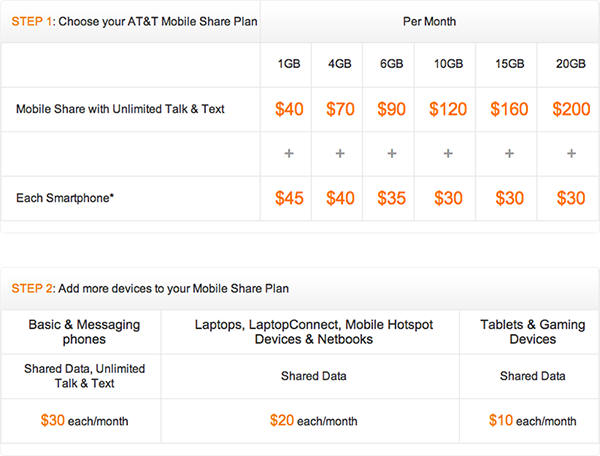 AppleInsider may earn an affiliate commission on purchases made through links on our site.
AT&T said Monday that it will join rival Verizon Wireless later this month in offering shared data plans to its subscribers, allowing them to spread their monthly data plans across multiple devices for an additional fee.
The previously announced plans, dubbed "Mobile Share," include unlimited text, talk and a pre-set data plan for a single device at a fixed price. Additional devices can then be added to share the data plan for between $10 and $30, depending on the type of device.
For instance, a 4GB iPhone data plan ($40) with Unlimited Talk & Text ($70) and an additional iPad ($10) will run $120 per month, while a 10GB iPhone data plan ($30) with Unlimited Talk & Text ($70) ($120) and an additional MacBook Pro ($20) will fetch $210 per month.
And since it can be confusing to figure out just which plan may work best, the carrier has launched a Mobile Share Planner tool as a simple way to estimate your current usage on each device.
The planner calculates your total estimated usage and recommends the right Mobile Share plan, from 1 GB to 20 GB. The tool also shows you the estimated costs for that plan.
AT&T says that subscribers can adopt the new plan without modifying their contract but says subscribers must tie the plan to an active smartphone subscription, meaning the shared data plans won't be available for purchase without voice and text.
Unlike Verizon, however, the carrier says it plans to continue offering its existing mobile plans to customers.