Apple's 'iPhone 5 Tsunami' predicted to sell 250M units over life cycle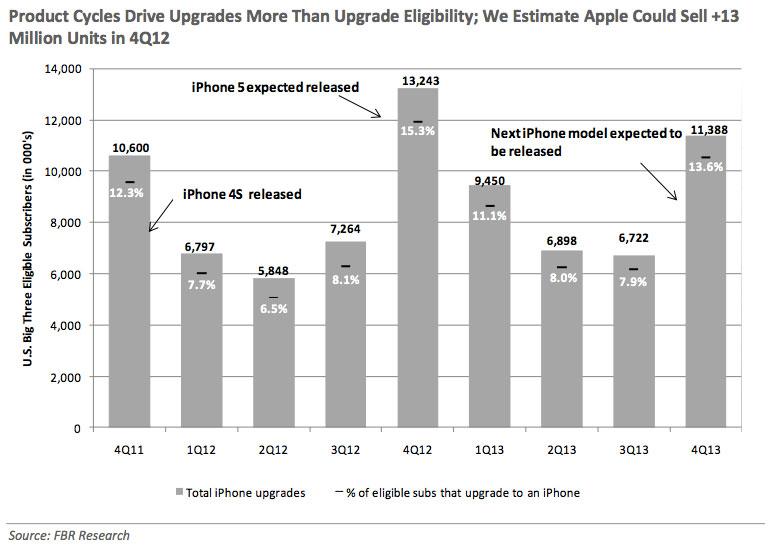 The next iPhone is expected by one analyst to be one of the most promising device upgrade cycles in Apple's history, driving more than $50 in earnings and as many as 250 million units over its life cycle.
Craig Berger with FBR Capital Markets believes Apple's so-called "iPhone 5" will deliver big results for both consumers and investors in AAPL stock. In fact, he sees the positive effects of a new iPhone launch extending well beyond Apple to its chip manufacturing partners and service providers.
Potential gainers from the launch of the new iPhone include Qualcomm and Fairchild Semiconductor, according to Berger. Both companies were also identified in a report last month from AppleInsider that detailed how Apple's U.S.-based supply chain has been increasing production.
Berger said the upgrade eligibility status of wireless subscribers could have a negative effect on Apple's total market share in the U.S., but he expects that weakness to be offset by the fact that upgrades are more often driven by product launches than eligibility status. He projects that extended upgrade policies could reduce eligible subscribers by 3.9 percent in 2013.
Berger also believes that if China Mobile begins selling Apple's iPhone in early 2013, it would generate 13 million units in the first half of the year. Rumors of a partnership between Apple and China Mobile have persisted for years, but to date the iPhone is still not officially available through the world's largest wireless carrier.
The "iPhone 5 Tsunami," as Berger called it, is also expected to help the wireless industry as a whole. He believes Apple's next iPhone will "help the industry migrate to a better balance between content provider and end-user revenue sources to support continued investment."
By investing in high-speed 4G LTE networks, throttling high-bandwidth users, and deploying Wi-Fi offloads, some carriers have been able to reduce their costs while application service providers like Apple, Google, Facebook and Netflix have been working closely with operators to improve scalability and minimize their effect on networks.