Apple & PowerON offer up to $345 for recycling an iPhone 4S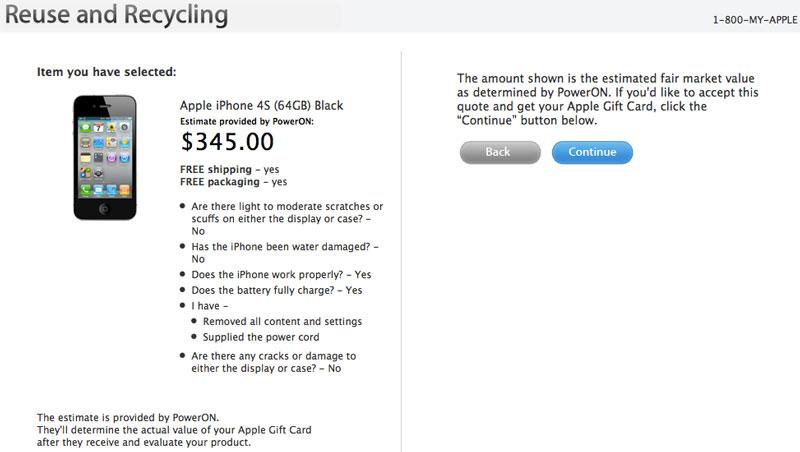 Apple this week updated its device recycling program to begin accepting the iPhone 4S, offering customers up to $345 for the top-of-the-line 64-gigabyte model.
Apple launched its buyback program for old iPhones, iPad and Macs last August through a partnership with PowerON. The third-party company operates Apple's reuse program, which provides customers with an Apple gift card equivalent to the fair market value of a device as determined by PowerON.
An estimated value for an iPhone 4S trade-in can now be found at Apple's Reuse and Recycling website. Customers with a lightly used black iPhone 4S in working condition will receive a $280 gift card for their handset.
The addition of the iPhone 4S to Apple's Reuse and Recycling program comes as the company is expected to be gearing up for the launch of its next handset, the successor to the iPhone 4S. The company is expected to hold a media event on Sept. 12 to unveil the next iPhone, with the device expected to launch the following week on Sept. 21.
Gift cards for Apple trade-ins are eligible for use at any U.S. Apple retail store or at the U.S. Apple online store. If a customer wants to trade in an item with no monetary value, the device will be recycled at no cost to the user.
In addition to Apple products, the company's Reuse and Recycling program also accepts trade-ins of Windows-based laptops and desktops. Older PCs can be recycled at no cost, while some newer computers receive an Apple gift card provided by PowerON.
The gift card amounts quoted online are estimates, and PowerON will determine the actual value after the product has been received and evaluated.