Apple investigating syncing between iPhone and car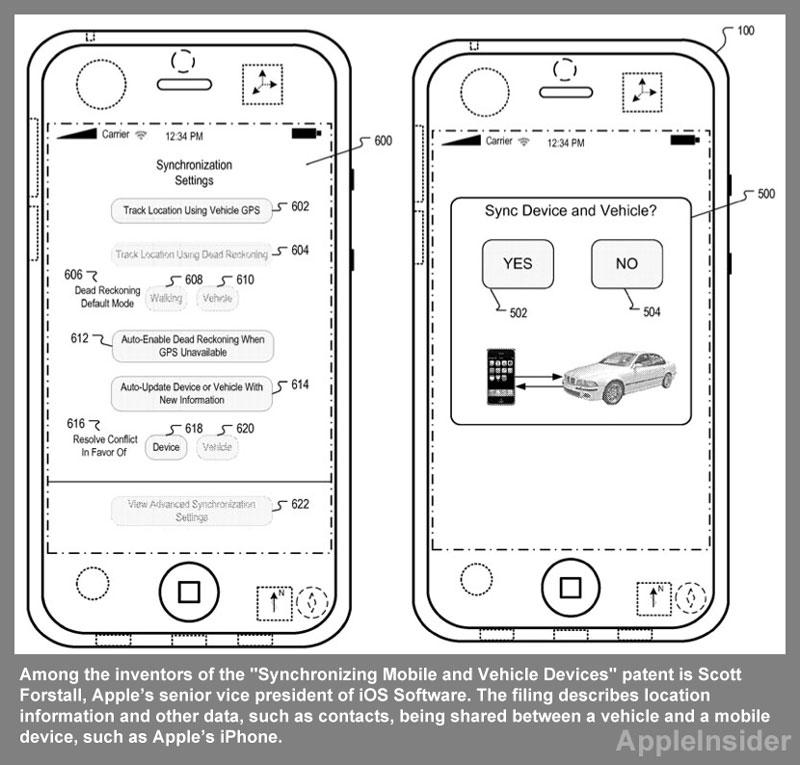 Apple iOS chief Scott Forstall is among the list of inventors in a new patent application related to syncing an iPhone with a vehicle.
The filing, published this week by the U.S. Patent and Trademark Office and discovered by AppleInsider, is named "Synchronizing Mobile and Vehicle Devices." Apple first issued the application with the USPTO in May of this year.
Among the four inventors is Forstall, who serves as senior vice president of the iOS Software division at Apple. Forstall is a key member of Apple's executive team who was described by author Adam Lashinsky earlier this year as Apple's "CEO-in-waiting."
The filing describes location information being transmitted between a vehicle to a mobile device, such as an iPhone. That location and sensor data shared between the two devices would then be used to aid in features like turn-by-turn navigation.
The application focuses on location and positioning data being shared between a vehicle and an iPhone to improve navigation, but other information could be transferred between the two devices. Among the potential uses listed in the application is syncing of contacts between the devices.
Illustrations included with the filing show a number of potential settings for synchronizing an iPhone with a vehicle. Users are given the option to "Track Location Using Vehicle GPS." If a location signal is lost, users can determine their current location based on the last known position, otherwise known as dead reckoning.
Though the iPhone includes a GPS radio, it can sometimes take time to lock on a satellite signal and the information can be inaccurate. It's for this reason that each iPhone maintains a database of Wi-Fi hotspots and cell towers, in order to help the handset rapidly and accurately calculate its current location.
"Calculating a phone's location using just GPS satellite data can take up to several minutes," Apple explained in a public statement on its location services last year. "iPhone can reduce this time to just a few seconds by using Wi-Fi hotspot and cell tower data to quickly find GPS satellites, and even triangulate its location using just Wi-Fi hotspot and cell tower data when GPS is not available (such as indoors or in basements)."
Other inventors on the application are Gregory N. Christie, Robert E. Borchers, and Kevin Tiene.