T-Mobile racing to convert its 4G network to support Apple's iPhone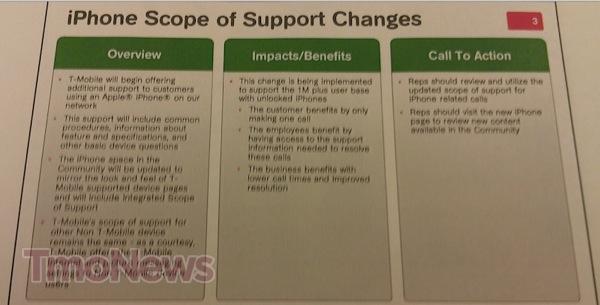 AppleInsider may earn an affiliate commission on purchases made through links on our site.
America's fourth largest carrier is also the only major U.S. provider unable to sell the iPhone, but T-Mobile is working diligently to change that situation.
Ever since the original iPhone shipped in 2007, T-Mobile has been able to host unlocked iPhones on its network, but only over the much slower 2G GSM frequency bands it shares with AT&T.
The 3G networks T-Mobile built have not been compatible with the iPhone because they work on non-standard AWS (Advanced Wireless Spectrum) frequencies rather than those used by AT&T in the US and most GSM-aligned carriers worldwide. T-Mobile then bet against the industry in siding with WiMax rather than 4G LTE as its future, a decision that was also incompatible with the iPhone.
While Verizon worked with Apple to develop a special CDMA model of the iPhone compatible with its network (and later adopted by Sprint, in addition to other CDMA carriers worldwide), T-Mobile's much smaller subscriber base has never been large enough to attract similar attention from Apple, whether for its non-standard 3G or its WiMax networks.
That has forced the company to strive to support unlocked iPhone users in an unofficial capacity even as it scrambles to make the network changes necessary to start negotiations with Apple. At the same time, the company's public marketing has attempted to downplay the iPhone and recommend Android-based alternatives, just as Verizon did right up until it could carry the iPhone.
Dashed plans, picking up the pieces
T-Mobile's initial plan to get the iPhone revolved around a proposed $39 billion acquisition by AT&T last year, which intended to reuse T-Mobile's spectrum to rapidly build out 4G LTE in the U.S. while enhancing coverage for existing AT&T users in the short term.
After the government stopped the deal, ostensibly to keep T-Mobile's cheaper plans available to consumers, T-Mobile was awarded a $3 billion in cash and $1 billion worth of spectrum as a parting gift.
Over the course of the last year, T-Mobile has been working to build out new 4G technologies that are compatible with Apple's iPhone, after having announced the loss of 700,000 subscribers that it attributed to the launch of Apple's iPhone 4S last fall.
In May, T-Mobile's chief technology officer Neville Ray said the company would be repurposing its existing 1900MHz 2G service with 4G HSPA+, in order to "provide customers with the ability to use a broader range of devices, including the iPhone, on T-Mobile's 4G network."
In January, T-Mobile's chief executive Philipp Humm said that "the key reason we didn't have the iPhone in the past is we are on different band than globally the market was," echoing the sentiment of the company's chief marketing officer, who a few months earlier noted that the company would "love to have" the iPhone, but that the "the ball is in Apple's court."
T-Mobile already supports iPhone 4S in some areas, faster than AT&T
T-Mobile is also planning to build out 4G LTE service next year, but portions of its recently built HSPA+ service, built out in New York City, Seattle and Las Vegas, is already capable of supporting Apple's iPhone 4S. T-Mobile was among the first carriers to advertise its HSPA+ networks as 4G, despite it not being LTE (albeit often just as fast as LTE).
In a new interview with Gigaom, Ray stated the the existing iPhone 4S is already operating 70 percent faster on T-Mobile than it does on AT&T.
Additionally, Ray noted that T-Mobile is also building support for dual-carrier HSPA+, which can support speeds up to 42 Mbps. While the iPhone 4S currently only handles HSPA+ up to 14.4 Mbps, the new iPad arrived with support for dual-carrier networks alongside North American LTE, making it very likely that the upcoming iPhone 5 will also support T-Mobile's very fast dual-carrier 1900MHz HSPA+.
Ray added, "We'll have a material footprint on HSPA+ at 1900 MHz by the end of the year," and told the site that T-Mobile would begin aggressively courting unlocked iPhone users this holiday season.
Once T-Mobile can offer broad support for iPhones on its network, Apple will likely be glad to negotiate a carrier agreement, although was the case with Sprint, it's not likely that T-Mobile will land the popular smartphone without guaranteeing solid sales with money up front.