iPhone 5 shortage reportedly a result of Apple's in-cell displays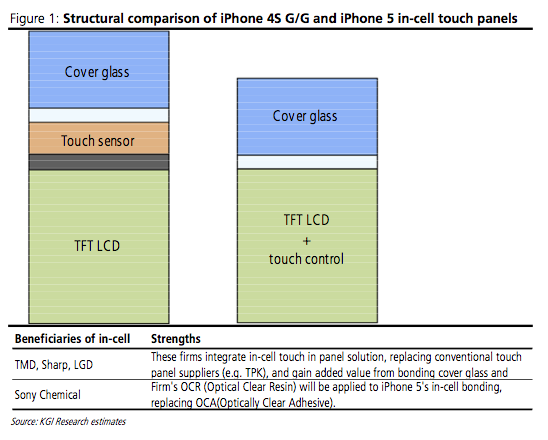 Apple's adoption of in-cell touchscreen panels for the iPhone 5 is the primary reason supplies of the new smartphone are constrained, according to a new report.
Analyst Ben A. Reitzes with Barlcays said in an note to investors that constraints on in-cell touch displays have been the "key issue" with iPhone 5 shipments. He said that iPhone 5 display supply is estimated to be just 10 million screens for the current, September quarter, while a "significant ramp" is expected to begin in the next, December quarter.
"We still believe Apple is facing significant production constraints due to a move toward in-cell display technology, which pushes a significant amount of units into the December and March quarters — a factor which limited sales this past weekend according to our checks," Reitzes wrote.
When production of in-cell displays does pick up in the fourth quarter, Reitzes believes Apple will sell more than 45 million iPhones, resulting in 22 percent year over year growth.
The in-cell touch panels used in the iPhone 5 are believed to be manufactured by LG Display Co. and Japan Display Inc. Bloomberg reached out to those two companies, as well as Apple, but all of them declined to comment.
Apple announced on Monday that sales of the iPhone 5 exceeded 5 million in its first three days of availability. That represented a new record for the company, but also came in below Wall Street expectations.
In a statement, Apple Chief Executive Tim Cook acknowledged that demand for the iPhone 5 is outstripping supply, and that his company is working to catch up with demand. Apple's sales figures also do not take into consideration orders that are en route to customers, as Apple must deliver an iPhone before it can be counted as a sale.
The new iPhone 5 is thinner and lighter than its predecessor thanks in part to the in-cell touch display that Apple has adopted. Previous versions of the iPhone relied on glass-on-glass solutions that were thicker and heavier.