Rumor: Pictures show alleged 16.7 watt-hour 'iPad mini' battery

Images of a purported "iPad mini" battery hit the web early Sunday, showing Apple's much-rumored 7.85-inch tablet may employ a 16.7 watt-hour battery, which would offer more energy than the cells found in Google's Nexus 7 and Amazon's Kindle Fire HD.
AppleInsider cannot confirm the image's pedigree and offers the following information for purposes of discussion only.
The photos acquired by MacRumors claim to be a final or near-final version of the battery set to be used in the so-called "iPad mini," with the purported unit bearing a product number of A1445 and APN, or Apple product number, of 616-0641. In comparison, the third-generation iPad's battery is identified as part number A1389, and carries an APN of 616-0593.
Further investigation of the supposed iPad mini battery reveals the unit is a 3.72-volt, 16.7 watt-hour cell that holds a charge of 4,490 mAh. This is compared to the third-generation iPad's huge 43 watt-hour, 11,560 mAh battery, the iPad 2's 24.8 watt-hour cell, and the iPhone 5's 5.45 watt-hour unit.
The alleged battery's markings are incomplete and have placeholders for certain regulatory text, numbers and government regulation insignias, suggesting the part is not a production model. However, the general shape of the unit is consistent with previously "leaked" components, including the rear shell, front display assembly and LCD.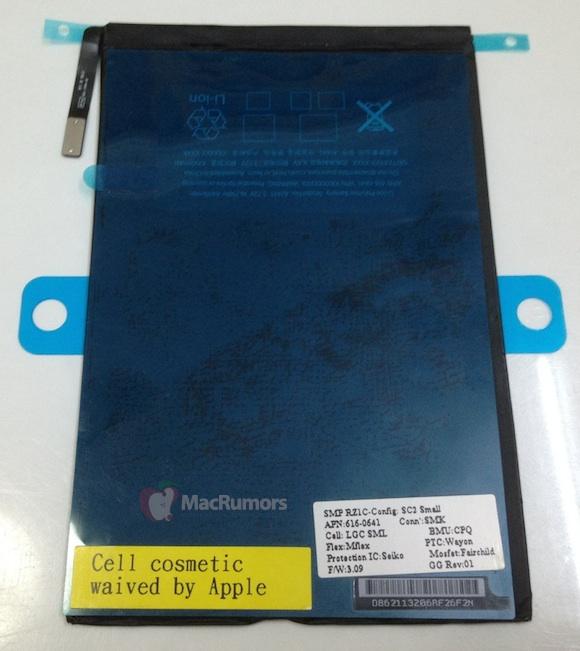 If legitimate, the 16.7 watt-hour cell could mean the smaller iPad's battery life will be comparable to the Nexus 7 and Kindle Fire HD, which employ a 16 watt-hour and 16.43 watt-hour unit, respectively. Weighing heavily into the runtime calculation of any device is the processor, which in some cases can diminish performance by hours.
It remains to be seen what processor Apple will choose to run the alleged iPad mini, though the company's most recent A-series system on chips are either on par or more efficient than competing silicon. A report in early October claimed that an unknown iPad, thought to be the iPad mini, appeared in an app developer's access logs, with the device operating an A6-series chip much like the component found in the iPhone 5.
Apple is widely expected to unveil its small form factor tablet at an event on Oct. 23.