Display expert refutes Microsoft claim that Surface RT display is "sharper" than iPad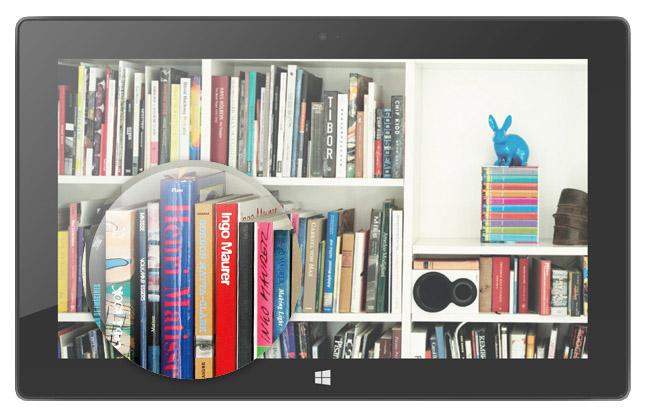 A display expert on Thursday compared the technology powering Microsoft's upcoming Surface RT with the iPad 2 and third-generation iPad's displays, seemingly debunking previous claims made by Microsoft that claimed its new tablet would be "sharper" than competing Apple products.
In a brief device shootout, President of DisplayMate Technologies Raymond Soneira pitted Apple's iPad 2 and New iPad against what he believes to be a device comparable to the as-yet-unreleased Surface RT, an ASUS netbook.
"The Windows ClearType 768p display on the Asus Netbook was significantly sharper than the iPad 2 768p display but also significantly less sharp than the new iPad 3 1536p display," Soneira wrote. "It is certainly possible that the Microsoft Surface RT Tablet will perform better than the Asus Netbook, but it is very unlikely that it will turn out to be visually sharper than the new iPad 3."
For the test, Soneira ran the New York Times website in Safari on all three displays, comparing and contrasting each screen's reproduction of the publication's small text.
"All 3 displays have the same 5.9 inch screen height in Landscape mode, so it was an excellent and very fair comparison.," Soneira said.
At issue is the perceived sharpness of on-screen images and text as presented by two different display technologies. Microsoft's Surface uses sub-pixel rendering, dubbed "ClearType," while Apple uses standard pixel rendering across its iPad line.
Soneira explained that sub-pixel rendering treats red, green and blue sub-pixels as independent addressable image elements not "bound together into specific pixels." He adds that in some cases, sub-pixel rendering can "make the screen appear to have up to 3 times the resolution" as a display using normal pixel rendering.
Earlier this week, CNET reported that Microsoft engineer Steven Bathiche told Reddit users in a IamA sesson that the 1,366-by-768-pixel, 148 pixel-per-inch display used in the new Surface RT outperforms that of Apple's third-generation iPad, which boasts a resolution of 2,048-by-1,536 pixels at 264 pixels per inch. Bathiche pointed to a measurement called Modulation Transfer Function, which combines contrast and resolution qualities to form an equivalent reading.
"Doing a side by side with the new iPad in a consistently lit room, we have had many people see more detail on Surface RT than on the Ipad [sic] with more resolution," Bathiche said.
As for Microsoft's Windows 8-powered Surface Pro tablet, which will have a 1,920-by-1,080-pixel, 208-pixel-per-inch screen using the same ClearType technology as its stripped-down sibling, Soneira thinks the device may level the playing field.
"It will be really interesting to compare them all... including the displays on Windows Tablets from other manufacturers, who might provide better displays than the Microsoft Surface...," Soneira said.