Images of alleged 'iPad 4' screen show larger hole for FaceTime camera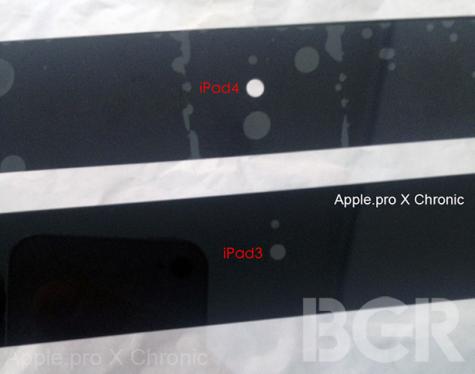 Coming just hours ahead of a special event at which Apple is expected to unveil a 7.85-inch "iPad mini," photos show what is claimed to be the screen of an as-yet-unannounced full-size iPad, revealing a larger hole for the front-facing camera.
The images come from Apple.pro (via BGR), with the source claiming to have obtained the front assembly for what it calls the "iPad 4," which purportedly boasts an optically-bonded display and enlarged FaceTime camera.
AppleInsider cannot verify the legitimacy of the images, and offers the information below for purposes of discussion only.
Comparing the current third-generation iPad's dipsly assembly with that of the reportedly revamped version, the most glaring difference is the size of the cutout meant to house the front-facing camera. This could suggest a larger sensor will be implemented in an upcoming iteration of Apple's 9.7-inch iPad, a space for enhanced optics, or both.
It should be noted that the current iPad's FaceTime camera is a 0.3-megapixel unit, while the recently released iPhone 5 and fifth-generation iPod touch use a 1.2-megapixel FaceTime HD component.
In addition to the possible FaceTime sensor change, the source said the display will be optically bonded to the front glass, akin to the technology used in Microsoft's Surface tablet, which will reduce glare and slim down the overall size of the device.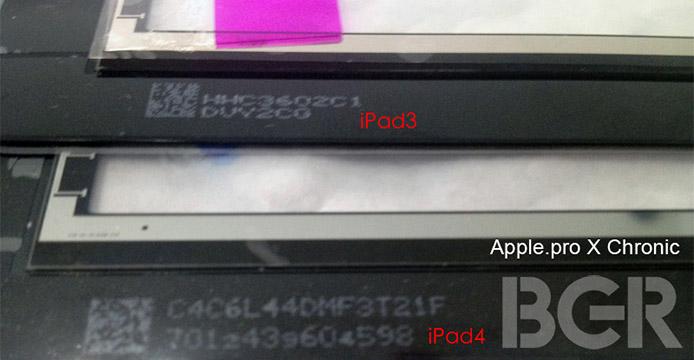 It is not clear if the reportedly leaked part is bound for a fourth-generation iPad or a rumored refresh of the current-generation tablet that could bring Lightning connectivity, updated internals and wider 4G LTE support as seen in the iPhone 5.
Apple is expected to unveil the so-called "iPad mini" at a special event tomorrow, possibly alongside a tweaked third-generation iPad.