Apple slims down iMac 40% with 'friction-stir welding' & ditching the disc drive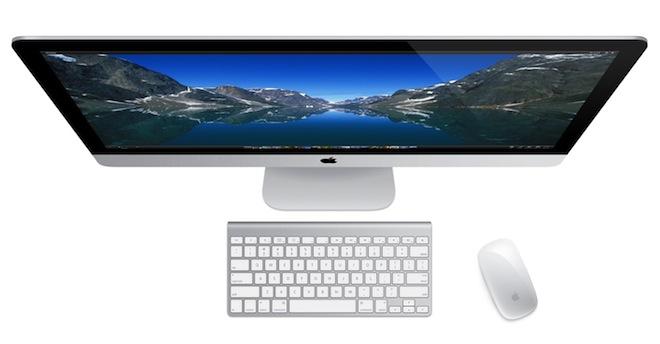 Apple's new iMac updates the company's flagship Macintosh into a faster, faster and — in particular — thinner version of itself.
Apple's iMac turned 14 this year. To celebrate, the company gave it a modernizing update, importing a series of ideas that have driven MacBook sales to the top of the notebook market.
The iMac was already Apple's most popular desktop model, despite being a relatively premium priced machine that already focused on design elegance than delivering the most transistors at the cheapest price.
The latest refresh delivers a much thinner outline lacking an optical drive, as AppleInsider anticipated earlier in the year.
It now joins every other Mac (apart from the Mac Pro, which Apple's chief executive said would be next updated significantly in 2013) in ditching built-in support for reading or writing optical discs, although all models can make use of the external USB SuperDrive Apple has sold since first releasing a MacBook Air without a disc reader.
Dropping a bulky disc mechanism allowed Apple to pare the iMac down to its core, resulting in an impressively thin outline, particularly at its outer edges where the case tapers to a skinny 5 mm. Overall volume was scaled back 40 percent.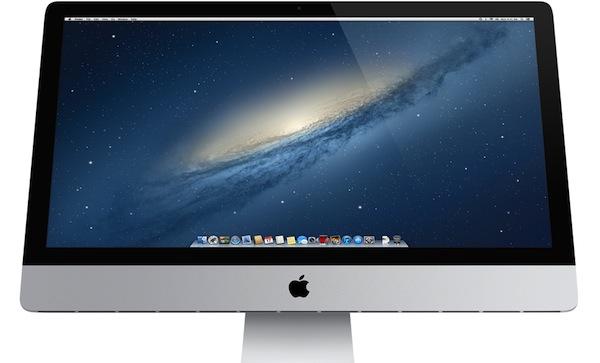 Too thin to take apart
"That required unprecedented feats of engineering," Apple notes, including the challenge of attaching the front and back case components together.
Conventional welding wouldn't work, so the company switched to a process known as "friction-stir welding," which it says "uses a combination of intense friction-generated heat and pressure to intermix the molecules of the two aluminum surfaces — creating a seamless, precise, and superstrong join."
The case isn't just hard to crack, it's not designed for end users to open at all. The smaller 21.5 inch version even lacks a user accessible cover to access RAM, which the 27 inch model retains. Both can, however, be upgraded if the entire case is opened up.
Apple says the smaller version supports up to 16GB, while the 27-inch model can be configured with 8, 16 or up to 32GB of RAM, using 1600MHz DDR3 SO-DIMM memory.
The removal of the optical drive and thin new redesign puts the SDXC Flash Card slot on the back of the machine, next to its 4 USB 3.0 ports, 2 Thunderbolt, 1 Gigabit Ethernet and a headphone jack.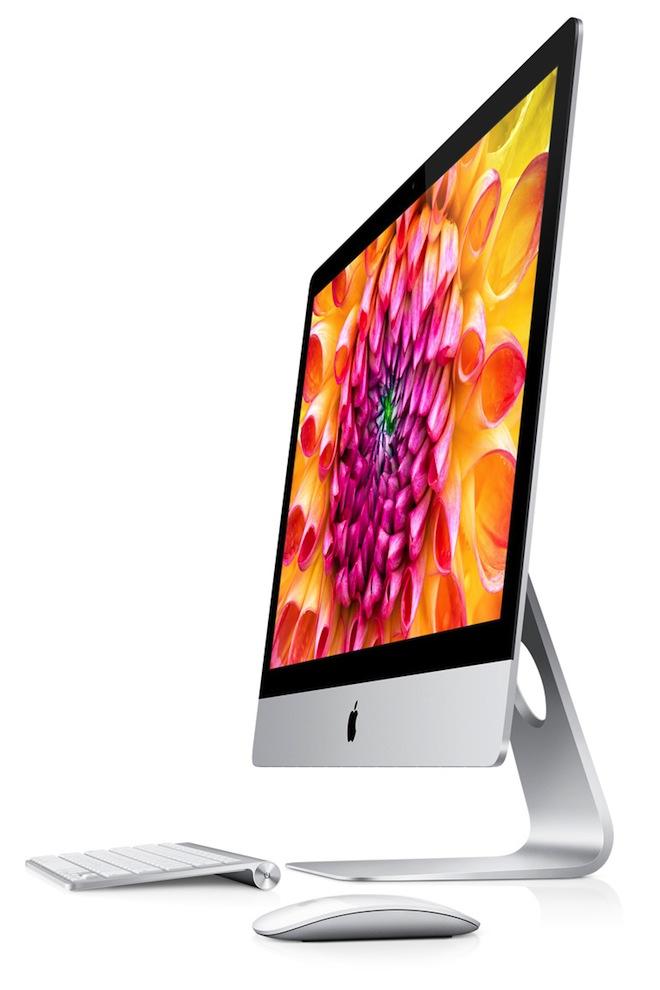 Apple previously experimented with iMac designs that allowed users to effortlessly lift the entire back panel off, even pull major components out for replacement via mail in the case of failure. That system did not go over well at all, failing to save any money on repairs while complicating the system's design.
While Apple takes a lot of flack for not making its systems easy to open and tinker with, the reality is that Apple's sealed boxes enable it to offer thinner, lighter, cheaper-to-build systems that people have bought in rapidly increasing numbers.

Screen improvements
The latest iMac also employs a new display assembly that fuses the display to the glass covering the screen, eliminating a 2 mm air gap while also using a super thin LCD that sheds another 5 mm.

In addition to getting thinner, the eliminated dead space also reduces reflections of the screen off the back of its glass.
Micron-thin antireflective layers of silicon dioxide and niobium pentoxide are plasma coated to the front of the display, which Apple says further reduces reflections by 75 percent.
New chips, faster graphics
Apple's 21.5 inch iMac, priced starting at $1,299, offers a third generation "Ivy Bridge" 2.7 GHz quad-core Intel Core i5, 8 GB RAM, and 1 TB hard drive. It begins shipping in November.
The 27-inch iMac starts at $1,799, with a 2.9 GHz quad-core Intel Core i5, 8 GB RAM, and 1 TB hard drive, and is expected to be available in December.
Both models offer upgrade options that include a faster Core i5 (up to 3.2GHz) or a 3.1 or 3.4GHz Core i7, as well as a Fusion Drive option that accelerates the hard drive using an adaptive 128GB flash storage system. The 21-inch model also supports a 3TB hard drive or 768GB of pure flash storage.
Additionally, the new iMacs switch from AMD (ATI) Radeon graphics (which they've used for the last three years) to an NVIDIA GeForce chip employing the GPU maker's new Kepler graphics architecture.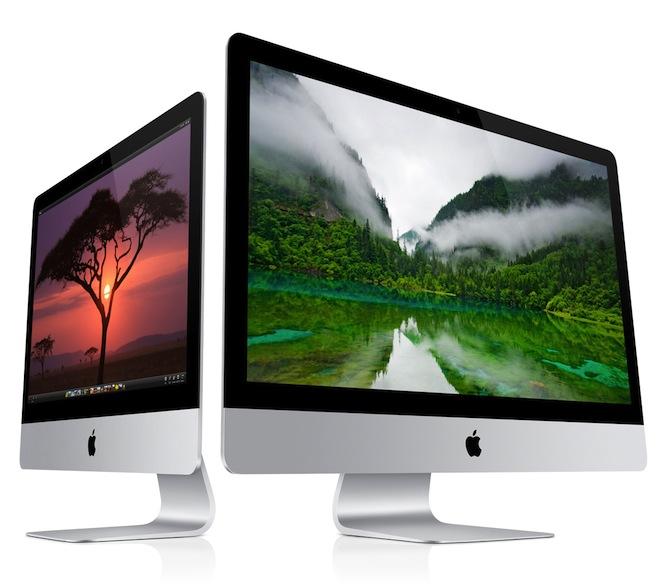 The new iMacs use either a GeForce GT 640/650/660M with 512MB of GDDR5 memory, offering an performance increase of around 20-40 percent, or the option (on the 27 inch model) of the GeForce GTX 675MX/680MX, which Apple says increases graphics performance by up to 60 percent. It uses 1GB GDDR5 memory as well as a 2GB option.