British Airways planning to add support for Apple's Passbook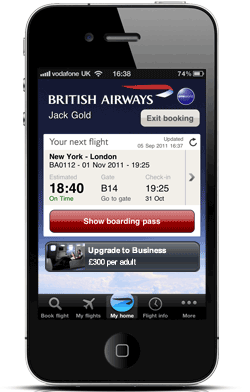 AppleInsider is supported by its audience and may earn commission as an Amazon Associate and affiliate partner on qualifying purchases. These affiliate partnerships do not influence our editorial content.
The Passbook feature in iOS 6 may gain another major partner in the form of British Airways, as the airline has signaled its interest in Apple's e-ticketing system, AppleInsider has learned.
One reader reached out to British Airways about potentially supporting Apple's Passbook, and they received a response from a company representative. British Airways confirmed that its ba.com team is already looking in to Passbook support.
"I'm pleased to confirm that the ba.com team are already looking into our website being able to work with the new Apple app, available with the iOS6 upgrade," the company representative wrote in an e-mail. "Please be assured that we will get our Passbook-compatible functionality live on ba.com as soon as we can."
British Airways already offers digital boarding passes through its official iOS application. But the carrier does not yet offer integration with Apple's Passbook.
Passbook launched with iOS 6 in September featuring support from Delta Airlines, American Airlines, United Airlines and Virgin Australia.
The addition of British Airways would be a major catch for Apple. The U.K.-based carrier has a fleet of 249 aircraft and serves 169 total destinations.
Just this week, Apple updated its own Apple Store application for iOS to add support for Passbook. With the new software, users can purchase gift cards and e-mail them to friends, and those cards can be stored as passes in the Passbook application in iOS 6.
Passbook is Apple's first stab at offering digital e-wallet type services on the iPhone. Rather than relying on near-field communication technology for wireless transactions, Apple has instead focused on replacing items such as store cards, boarding passes, movie tickets and retail coupons.
One of the first adopters of Passbook was Major League Baseball, which offered digital tickets for four teams at the end of the 2012 season. The league's digital ticketing operation was "floored" by the initial adoption rate for Passbook, as they found Apple's service accounted for 12 percent of MLB e-tickets.