Apple wins patent rights to OS X 'widgets' and dashboard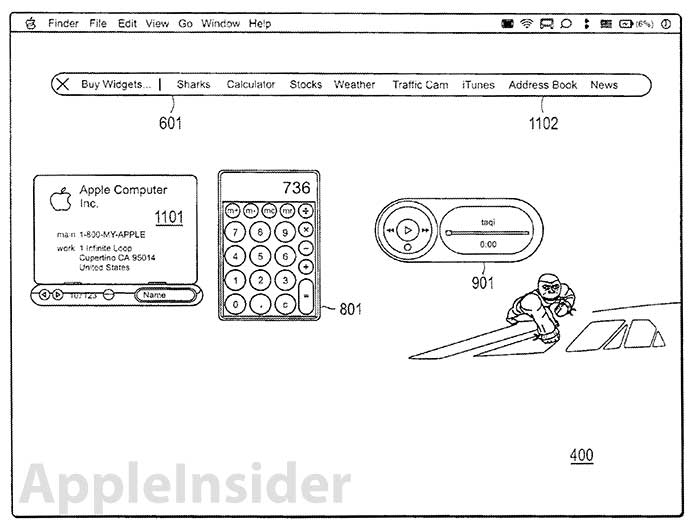 The U.S. Patent and Trademark Office on Tuesday granted Apple a patent for the so-called "widgets" dashboard, which holds a number of mini applications built on web languages CSS, HTML and JavaScript, first seen in OS X 10.4 Tiger in 2005.
According to the filing, Apple's U.S. Patent No. 8,321,801 for "Desktop widgets for presentation in a layer," was invented to do away with the information overload some users may experience with a modern desktop UI like OS X.
Widgets can be loosely defined as small WebKit applications that can connect to the internet for information gathering purposes, such as a weather widget. Other examples include stock market tickers, flight trackers and sticky notes.
Widgets can be of any type. They can communicate with a remote server to provide information to the user (for example, a weather report), or they can provide commonly needed functionality (for example, a calculator), or they can act as an information repository (for example, a notepad or calendar). Some widgets can provide a combination of these types of functions. In one aspect, an application programming interface (API) is provided so as to allow third-party developers to create and distribute additional widgets that provide different types of functionality.
The '801 patent is a continuation of past Apple patents, and offers a broad outline describing how widgets operate and are presented in OS X.
Starting with user interactivity, the property calls for a dashboard that holds a plurality of widgets, which can be rearranged and resized depending on content or preference. This dashboard first appeared in OS X Tiger as an overlay that could be accessed via a keyboard command, as described in the patent language, and when activated would take over the desktop environment. Hitting the same keyboard button, previously F12, would hide the dashboard and bring back the OS X desktop.
The dashboard was tweaked over the intervening years, and in OS X 10.8 Mountain Lion, received a design overhaul that gave the feature its own dedicated "space." Also changed is the way users interact with the widgets, with the system taking on a more "iOS" style of management that brings up a widget selection page, while deactivation is accomplished by simply clicking on an iOS-style "x" button. Also changed is the trigger mechanism, with the multitouch trackpad allowing a three-finger gesture to sweep the dashboard into view.
Widgets themselves can be stacked on top of each other, or laid out in almost any fashion, and can run multiple versions of themselves within a given dashboard. For example, five clock widgets can be opened to keep track of time in five time zones.
Because widgets are basically HTML files, they are inherently representative of content seen on the web and can thus access web pages with the click of a button. In this way, the data within the widget is current, allowing for real-time events like alerts or alarms.
Also described in the patent filing is the installation of widgets, which can be seeded from a store, such as iTunes, or other digital repository. WebKit development is mentioned, as well as dashboard server and client, both of which go into detail regarding the backend coding environment and languages.
As noted, Apple owns a number of widget-related patents, including certain widget security properties that caused some controversy with the World Wide Web Consortium as they were in direct opposition to the open, royalty-free widget standards.
While the small bite-sized programs have been maintained since Tiger, some are questioning their utility as development has shifted to more robust iOS apps. For now, widgets will remain in OS X, however, and Apple has not announced any future plans to kill off the feature in near-term iterations of its Mac operating system.