Review roundup: New iMac display and redesigned chassis shine, audio a step back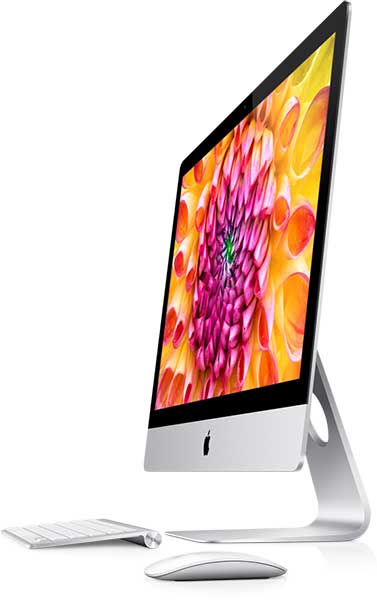 AppleInsider is supported by its audience and may earn commission as an Amazon Associate and affiliate partner on qualifying purchases. These affiliate partnerships do not influence our editorial content.
Reviews for Apple's new iMacs are starting to hit the web just hours after the all-in-one officially launched at Apple Stores and resellers worldwide on Friday, and so far the two standout features appear to be the unit's laminated display and slim design.
Both CNET and The Verge published their respective takes on Apple's sleek new desktop, each finding that the display is the unit's centerpiece feature despite being the same IPS panel used in last year's model. For 2012, the iMac is using a new process that laminates the LCD to the front glass, minimizing reflections up to a claimed 70 percent.
Performance also gets a bump with new silicon from Intel, starting with the chip maker's Core i5 CPU and topping out with a 3.4GHz Core i7 processor, as well as graphics provided by NVIDIA's GeForce GT and GTX lines. Apple's Fusion Drive adds to system speed by lowering read-write times, however the solution is not standard a feature and must be added during configuration.
According to CNet, which reviewed a high-end 27-inch model only, the new iMac is one of the best performing all-in-ones it has ever tested.
A thin bezel is nice to look at, but it doesn't improve processing speed, workflow, or overall utility. Fortunately for Apple, it evolved that design from a computer with a strong technical foundation. It is the updates to that foundation, and a few points of polish along the way, that keep this iMac on elite footing.
The Verge also found the iMac to be a strong performer, but noted that the current 15-inch MacBook Pro with Retina display put up comparable Geekbench scores. The publication believes Apple's Fusion Drive, while one of the "best features" offered, is overpriced because the option is only available on certain higher-end machines.
Another quibble is the lack of bass fidelity with the iMac's speakers. Due to the slimmed-down design, Apple was apparently forced to make concessions with audio quality, meaning the speakers have "zero bass response."
The display is really the only unequivocated improvement in the new model, and it's a big one. The sleeker, slimmer design is great, but it causes a couple of problems and forces a few unfortunate compromises. Yes, it's faster, but only enough to keep up with the Joneses — equal performance can definitely be had elsewhere.
Inventory is going fast, with the 27-inch model already seeing initial shipping dates pushed back to three to four weeks. Supply of standard configuration 21.5-inch models, which is currently available in brick-and-mortar Apple Stores, still shows ship-by dates of one to three days.
Buy Now and Save
Those interested in purchasing Apple's newest iMac can get a better deal by preordering with AppleCare through B&H Photo, which has partnered with AppleInsider to offer exclusive discounts. The Apple-authorized reseller is running a "Buy Together and Save" promotion that offers 50 percent off AppleCare 3-year extended warranty plans (normally $249 to $349) when purchased alongside a new Mac.
To take advantage of the bundle, visit the B&H website, add an iMac to the cart, select a free piece of bundled software and click the "COMPUTER ACCESSORIES" option from the menu on the lower left. Next, add the discounted AppleCare protection plan for your Mac by choosing "Select Item."
AppleCare for both the 21.5- and 27-inch iMacs is available for just $61 through B&H Photo for AppleInsider readers.
Special deals are also available through Apple-authorized reseller MacMall, which is offering all four standard iMac models along with configuration options. Customers will receive a free copy of Parallels, a $79.99 value, and MacMall also offers financing with an extra $20 off and no payments or interest for six months.