Apple suppliers say iPhone 5 demand still strong, iPad mini cannibalizing 9.7" iPad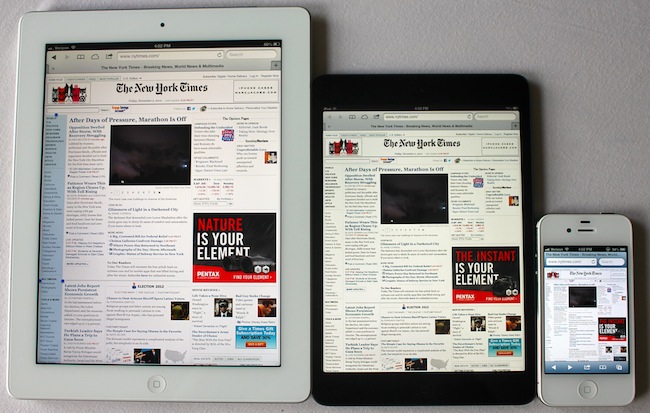 Demand for the iPhone 5 remains strong as supply and yields continue to improve, but total iPad sales for the holiday quarter may prove lower than market watchers expect, as the iPad mini cannibalizes sales of the new fourth-generation iPad.
In his talks with Apple's supply chain, Shaw Wu of Sterne Agee found that lead times of the iPhone 5 are now at the same day. That's an improvement from recent turnaround times of two to four days.
Wu has increased his iPhone forecast to 47.5 million for the holiday quarter, up from a previous prediction of 47.3 million. His expectations are higher than market consensus that Apple will sell between 45 million and 46 million iPhones.
As for the iPad, Wu has reduced his projected sales from 25 million to 23.5 million. His new forecast is a bit below market consensus of between 23 million and 24 million.
Wu has cut his iPad sales projection because of continued constraints on iPad mini supply, and lower build orders for the fourth-generation iPad. Sales of the full-size 9.7-inch iPad may be slower than expected, Wu said, because of some cannibalization from the smaller and less expensive iPad mini.
However, he also added that demand for the iPad mini remains strong, suggesting consumer preferences are simply shifting to the smaller form factor. Shipments of the iPad mini are simply limited because of supply constraints.
From conversations with a broad set of investors in recent weeks, Wu believes shares of AAPL stock will continue to be volatile until the end of 2012. This instability comes from Wu called "non-fundamental factors" such as profit taking, rather than a reflection on the company's recent performance.
"However, as we enter 2013, investor sentiment will likely shift back to fundamentals," he said. "We are at the beginning of two big product cycles that will likely last 3-5 quarters and see margins poised to improve with greater scale and improving yields."