iPhone 5 launch propels Apple to 53% of US smartphone sales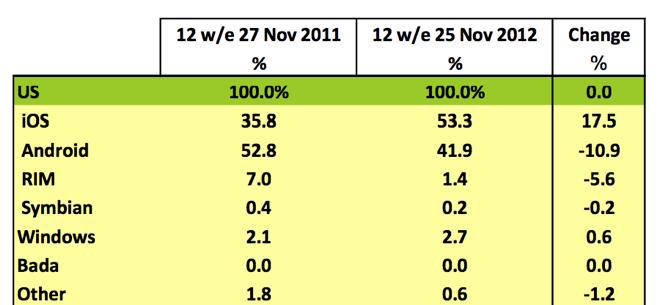 The debut of the iPhone 5 sent Apple soaring to its highest share of sales the U.S. smartphone market ever, according to new data.
Kantar Worldpanel published its latest research on Friday, showing that Apple took 53.3 percent of smartphone sales in the U.S. over the last 12 weeks. That span includes the launch of the iPhone 5, which was the strongest start ever for an Apple handset.
Apple's gains were Android's losses, as Google's platform — available on a range of devices from multiple manufacturers — saw its share drop 10.9 percentage points year over year. Apple, meanwhile, surged, taking 17.5 percentage points more than in 2011
"Apple has reached a major milestone in the US by passing the 50 percent share mark for the first time, with further gains expected to be made during December," said Dominic Sunnebo, global consumer insight director at Kantar Worldpanel ComTech.
Research in Motion continued its fall, plummeting another 5.6 percentage points to take just 1.4 percent of U.S. smartphone market sales. Microsoft saw a slight gain, growing its Windows Phone sales 0.6 percentage points to 2.7 percent.
Outside of America, Samsung remained the top smartphone maker in Europe's five largest countries, taking a 44.3 percent share over the three-month span. Apple was in second with 25.3 percent of sales during the 12-week period.