iPhone 5 sales strong, but iPad supply issues affected Apple's holiday quarter - report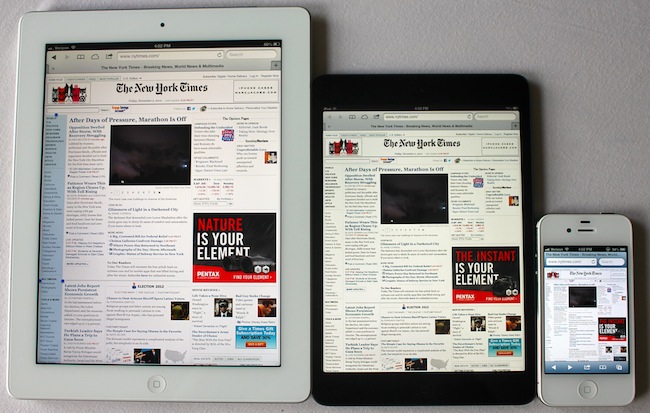 AppleInsider is supported by its audience and may earn commission as an Amazon Associate and affiliate partner on qualifying purchases. These affiliate partnerships do not influence our editorial content.
The 2012 holiday season was a blockbuster quarter for the iPhone 5, but iPad sales may have been lighter than expected because of supply issues, according to one analyst.
Mark Moskowitz of J.P. Morgan said on Thursday that his team's research indicates near-term supply constraints affected iPad sell-in activity through the end of November.
Moskowitz had previously forecast sales of 20.1 million iPads in the December quarter, but he has now trimmed that estimate to 18.4 million units.
"While lighter iPad units could frustrate investors, we believe the miss is explainable," he said. "In our view, it was a supply — not demand — issue."
While the iPad number could be soft, Moskowitz, like other analysts, dismissed recent concerns that iPhone demand could be waning. That sentiment, which pushed Apple's stock below $500 this week, was driven by an article from The Wall Street Journal that alleged iPhone component orders were drastically reduced in response to weakened demand.
Earlier this week, Moskowitz dismissed that and other reports as just "noise" that would fuel an investor overreaction. On Thursday he stood by that sentiment, and reiterated his belief that any order cuts could mean that iPhone 5 manufacturing yields are improving. Moskowitz has forecast sales of 47.9 million iPhones in the December quarter.
The analyst also belives Apple's gross margins could recover faster than most market watchers expect, which he said would be a "major positive" for AAPL stock.
"In our view, many investors have been locking in gains on Apple and reducing the relative weighting of the stock in their funds because it was difficult to defend a stock where gross margin declines were expected in the coming year," he wrote. "This overhang stands to subside faster than expected, in our view, if component order cuts related to iPhone 5 imply manufacturing yields and thereby gross margins are on the rebound."
Given recent pullbacks in the stock, J.P. Morgan has reduced its 12-month price target to $725, down from the previous prediction of $770. However, the firm has maintained an "overweight" rating on Apple.