Sharp cuts production of 9.7" iPad screens, demand may be shifting to Apple's iPad mini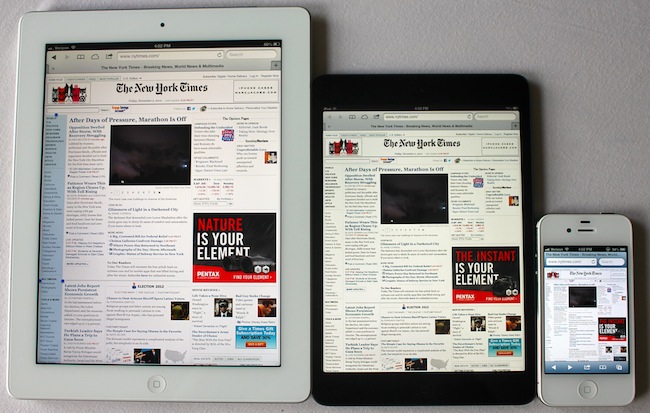 AppleInsider may earn an affiliate commission on purchases made through links on our site.
Sharp is said to have "nearly halted" production of 9.7-inch panels for Apple's full-size iPad — a change made as sales are predicted to shift to the 7.9-inch iPad mini.
Two sources signaled to Reuters that production of 9.7-inch LCD displays has "fallen to a minimal level" at its Kameyama plant in Japan. Friday's report indicated that a slowdown began at the end of 2012.
"The sources didn't say how much of the slowdown was due to seasonal changes in demand or consumers opting for the smaller iPad mini," the report said, "and were unable to characterize Apple's overall tablet sales."
While the sources reportedly characterized the changes as inventory management by Apple, some market watchers believe the new iPad mini may have had a significant effect on sales of the full-size iPad. Data from NPD DisplaySearch published in December indicated the iPad mini is already on pace to outsell the iPad.
A breakdown of iPad versus iPad mini sales for the holiday quarter is not likely forthcoming, however, as Apple does not detail sales of individual products. The company is set to report its quarterly earnings next Wednesday, a call that has been declared the company's most important in a decade.
The report of iPad panel orders being slashed at Sharp comes as Apple has already been hit with rumors that the company has drastically cut iPhone 5 component orders in response to weakening demand. However, many analysts have stood by Apple, dismissing the apparent order reductions as typical supply chain management and not a sign of consumer demand.
A drawdown in component orders for the iPad could also be a sign that Apple is preparing to launch a new model. One report from earlier this month claimed Apple plans to debut a fifth-generation iPad in March.
Analyst Ming-Chi Kuo of KGI Securities, who has a strong track record in predicting Apple's next moves, said this week that he has been told Apple's next iPad will be "significantly lighter and slimmer." The so-called "iPad 5" is expected to have a narrow border design, similar to the one found on the iPad mini.