Apple's next 9.7" iPad to be 'significantly lighter and slimmer'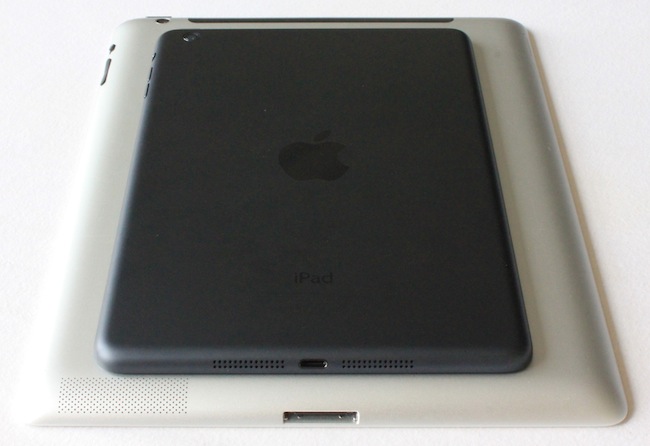 Apple's full-size iPad is set to shed some excess, with a thinner and lighter fifth-generation redesign expected to arrive this year.
The next 9.7-inch iPad is expected to borrow design cues from its smaller sibling, the 7.9-inch iPad mini, according to KGI Securities analyst Ming-Chi Kuo. He expects the fifth-generation iPad to be "significantly lighter and slimmer" than the design featured in the third- and fourth-generation models.
In addition, Kuo said Apple's "iPad 5" will feature a narrow border design, similar to the one found on the iPad mini. To compensate for that smaller border, the iPad mini features advanced software that allows the system to ignore unintended touching of the screen during one-handed use.
Kuo has forecast Apple to release a new full-size iPad in the third quarter of 2013. That goes against some other recent rumors, which pegged a fifth-generation iPad to launch in March, which would be about six months after the launch of the iPad 4 and would continue with a twice-per-year upgrade cycle.
Last year, Kuo accurately predicted that Apple would launch a modified new iPad before the end of 2012. At the time, that news was seen as a surprise, because Apple had just updated the iPad in March, and previously had only refreshed its touchscreen tablet once per year.
But Apple did in fact announce a new fourth-generation iPad in October, featuring a new Lightning dock connection, as well as a faster A6X processor.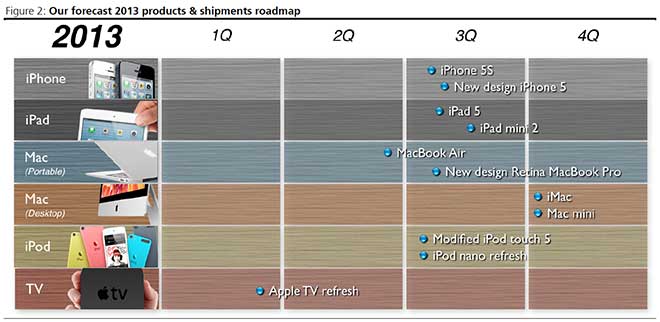 Kuo also believes Apple's 2013 lineup will include an updated iPad mini with a high-resolution Retina display. He expects the next iPad mini to have the same 2,048-by-1,536-pixel resolution as the full-size iPad, which would pack in more pixels per inch on the smaller 7.9-inch screen and would allow developers to write their applications for one shared resolution.
And while some have said they expect Apple to launch a full-fledged television set this year, Kuo doesn't see that happening. His product roadmap predictions call for a refresh to the Apple TV set-top box this quarter, but an Apple HDTV won't show up until 2014 at the earliest, he said.