Apple Online Store highlights iPad, iPad mini for Valentine's Day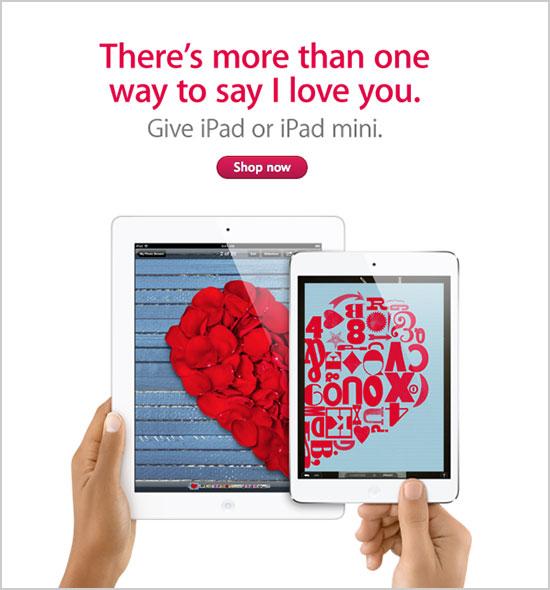 Apple on Monday updated its online storefront with special advertising for Valentine's Day featuring seasonal picks highlighting the iPad and iPad mini.
Although iPad mini demand is still outstripping supply, Valentine's Day shoppers should have more than enough time to make their purchases ahead of the Feb. 14 date as current ship-by dates stand at one week. All versions of the 9.7-inch fourth-generation iPad are in stock.
For last-minute buyers, Apple activated a special webpage showing the date on which orders must be received to allow for shipment by Valentine's Day. Products listed in the delivery schedule are all first-party devices including standard and engraved iPads, iPhones, iPods, Macs, gift cards and accessories. Interestingly, Apple notes that iPad minis must be purchased by Jan. 30 to guarantee a Feb. 14 delivery, suggesting the company is anticipating inventory to remain depleted until at least mid-February.
Along with the iPad and iPad mini, Apple is advertising free shipping on orders of $50 or more as well as free laser engraving services for any iPad or iPod purchase made through the Online Apple Store.