New Jersey firefighters sworn in on iPad Bible app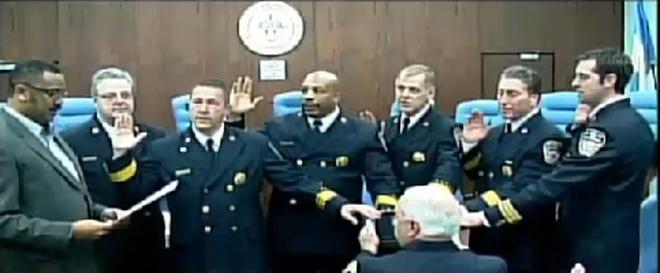 Last week, several Atlantic City firefighters took their oaths of office using not a physical Bible, as is tradition, but a Bible app on Apple's iPad.
According to a Friday report from NBC 40, officials had scheduled a ceremony to promote several Atlantic City Fire Department workers to Battalion Chief and Fire Captain, but upon commencing the proceedings it was noticed that no one had thought to bring a Bible to City Council Chambers.

Atlantic City firefighters get sworn in on an iPad. | Source:NBC 40
One attendant, though, carried Apple's popular tablet computer along with him. The iPad owner pulled up ― or downloaded, as the report is not clear ― a Bible app. The firefighters then swore their oaths, each placing his hand on the iPad with the Bible app open.