Apple CEO Tim Cook now slated to speak at Tuesday's GS conference during open market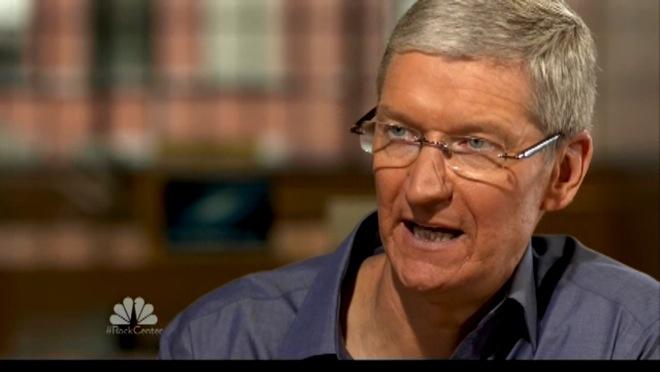 AppleInsider is supported by its audience and may earn commission as an Amazon Associate and affiliate partner on qualifying purchases. These affiliate partnerships do not influence our editorial content.
A last minute change to the keynote speaker lineup for Goldman Sach's tech conference on Tuesday has Apple CEO Tim Cook speaking as the U.S. stock market opens for trading rather than during his initially-scheduled slot following market close.
The shift was made public Monday in an update to the investment bank's official agenda for the San Francisco, Calif-based conference. Cook is now slated to speak at 7:15 am PT/ 10:15 am ET rather than the previously scheduled 1:15 pm PT/ 4:15 pm ET slot that would see his comments arrive during after hours trading, following the conclusion of the day's regular trading session.
Apple's top brass have traditionally shied away from making material announcements during their appearances at non-Apple sponsored events, but the last minute scheduling change places Cook's comments square in the early morning trading session and will undoubtedly raise the eyebrows of industry-watchers who wonder whether Cook will use the forum to make some form of market-moving comments.
Generally speaking, Apple watchers have witnessed a pattern where Apple disclosures early in the day and week generally translate to positive news while those later in the week or after market have a higher risk of presenting downside for investors.
Like last year, Cook's presentation at the Goldman conference comes just days before Apple's annual shareholder meeting, a forum which has historically produced a bit more color on the company's ambitions and thinking than third-party keynote address.
This year, however, Apple and Cook find themselves under increased scrutiny from their investment community, which collectively lost tens of billions of dollars in equity on the back of disappointing first quarter results released last month.
With signs that Apple's bread-and-butter iPhone business is becoming vulnerable to the likes of Samsung and its own smartphone portfolio, analysts are now more than ever unified in their appeals for additional transparency on the direction the company plans to take to stem the encroachment and continue to grow the segment worldwide.
Additionally, analysts and investors alike are frustrated with Apple's use of capital amid the increase in competition, with one large hedge fund manager going as far as to sue the company over the use — or lack thereof — of its $137 billion and growing cash hoard.
Like last year, Apple will provide an audio stream of Cook's keynote speech through its investor website. At last year's conference, Cook talked supplier working conditions, iPad penetration, competitive pricing, cannibalization, iCloud, the company's balance sheet, and a vow 'not to permit the slow undoing of Apple.'