Apple to give shareholders another $2.5 billion on Valentine's Day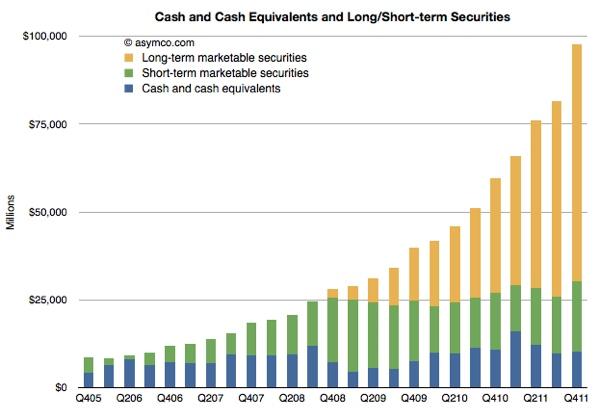 Apple will pay shareholders its third dividend tomorrow, distributing roughly $2.5 billion at $2.65 per share across the company's 939 million outstanding shares.
Flush with billions in cash it simply can't spend fast enough, Apple first announced plans for its dividend program in March, alongside a $10 billion share buyback program. Each quarter, the company said it would pay shareholders a $2.65 per share dividend. Shareholders of record on February 11 will receive dividend payments tomorrow, February 15th.
Apple's chief executive Tim Cook noted that the company has "used some of our cash to make great investments in our business through increased research and development, acquisitions, new retail store openings, strategic prepayments and capital expenditures in our supply chain, and building out our infrastructure. You'll see more of all of these in the future.
"Even with these investments," he added, "we can maintain a war chest for strategic opportunities and have plenty of cash to run our business. So we are going to initiate a dividend and share repurchase program."
Can't spend fast enough to make a dent
Over the next three years, Apple has stated that its buyback and dividend plans will distribute $45 billion from its cash pile, with quarterly dividends handing out $2.5 billion per quarter.
Apple is earning new cash faster than it is paying out in dividends however, so its $2.5 billion in quarterly dividend payments has not reduced Apple's cash hoard over the past three quarters.
In the company's December quarter, Apple announced a sequential increase of an additional $16 billion in cash, leaving it with $137.1 billion in cash at the end of the year.
Apple will continue paying new quarterly dividends about a month and a half after the end of each subsequent quarter. A dividend equivalent will also be paid to holders of Apple's restricted shares, although Cook has declined to collect dividend payments for the 1.125 million shares of restricted stock he has been granted, which would otherwise be worth over $75 million.
The company's current dividend payment rate is quite modest when compared to its current and future cash position. At the same time, Apple's $2.5 billion in quarterly dividend payments makes it one of the highest dividend payers in the U.S.