Apple expected to sell 55M iPad minis, 33M iPads in 2013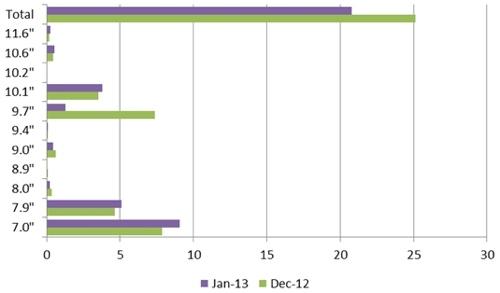 Shipments of 9.7-inch tablets like Apple's full-size iPad "collapsed" in January, setting the stage for the iPad mini to be the market leader in 2013.
In a post to its official blog on Thursday, NPD DisplaySearch revealed it has heard that Apple may currently be planning to ship 55 million iPad minis and 33 million iPads this year. That's a major change from the company's apparent plans in December, when Apple had expected to ship 40 million iPad minis and 60 million full-size iPads this year.
If Apple were to sell 88 million iPads this year, it would be a significant increase from 2012, when the company sold 58.31 million iPads.
Apple apparently changed course on its 2013 plans after shipments of 9.7-inch tablets "collapsed," falling from 7.4 million in December to 1.3 million in January. Meanwhile, shipments of 7-inch tablets, like Google's Nexus 7, and 7.9-inch tablets, like the iPad mini, grew from 12 million to 14 million.
As Apple has shifted its approach, competitors are also said to be preferring to build tablets in the 7-to-9-inch range. "White box" companies based in China also reportedly prefer tablets with smaller screen sizes.
NPD DisplaySearch forecasts that tablet PC shipments will reach 254 million in 2013, up from 160 million in 2012. Of those, tablets in the size range of 5 inches to 8.9 inches will account for 136 million units, while those from 9 to 10 inches will reach 118 million units.