Apple's 3.5% smartphone share gain was Android's loss in Q4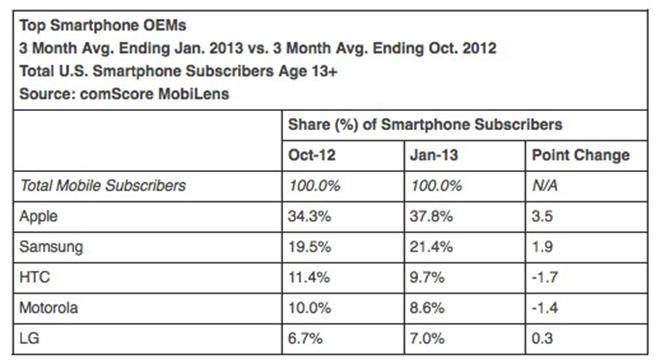 The launch of the iPhone 5, combined with the continuing popularity of the iPhone 4S and iPhone 4, allowed Apple's iOS to grow by 3.5 percentage points in the U.S. market, taking share away from Google's Android OS.
comScore's new report covers the three-month period ending in January 2013. The report shows Apple retaining the top spot in the U.S. among smartphone manufacturers, with 37.8 percent of the market, up 1.5 points from December of 2012. Samsung came in a distant second at 21.4 percent, but the Korean company also grew its share of the market by 0.4 points from December of last year.
The two companies' continuing domination of the smartphone segment came largely at the expense of HTC and Motorola, which continued to lose share.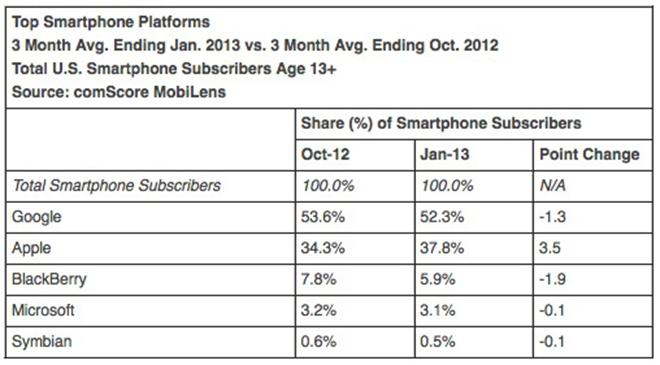 As Apple's smartphones grew in popularity, so too did the operating system powering them. comScore has Apple's iOS at 37.9 percent of the U.S. smartphone market in January of 2013, up 3.5 percentage points from October of 2012 and 1.6 points from December. BlackBerry was hurt most by Apple's growth, losing 1.9 points in the period, but iOS' growth appears to have come from customers switching from all platforms, including Android, Microsoft OSes, and Symbian.
The growth in Apple's share of the smartphone segment no doubt stems in large part from the launch of the iPhone 5. Apple's last two handsets, the iPhone 5 and iPhone 4S, were the two most popular smartphones on the market over the fourth quarter of 2012.