Rumor: Apple to purportedly use Qualcomm's Snapdragon SoC in low-cost iPhone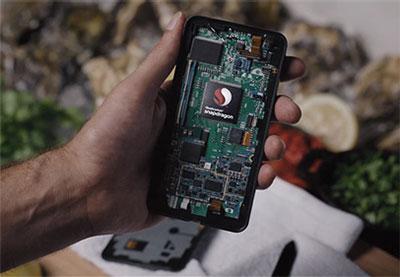 An unverified report out of the Far East on Friday claims that Apple will use a version of Qualcomm's Snapdragon system on a chip in a much-rumored low-cost iPhone, with manufacture of the purported handset expected to begin in the second quarter.
Spotted by Japanese blog Macotakara, the China Times report cited an unnamed industry watcher as saying that Apple plans to use Taiwanese chipmaker TSMC's 28nm process to build the cheap iPhone's Snapdragon SoC. If true, the switch away from Samsung's foundries would be a first for the Cupertino company, which has pushed increasingly further into chip design with its latest A6 and A6X processors.
Apple will supposedly continue to manufacture the A-series silicon used in the iPhone 4 and iPhone 4S, as well as the A6 chips from the iPhone 5 and fourth-generation iPad.
While suspicious, the rumor is not without merit, as two 28nm-based classes of Snapdragon, specifically the 400 and 800 series, offer on-board communications including a cellular modem, Wi-Fi and Bluetooth. If Apple is indeed planning to launch a cheap handset in developing markets, the use of an all-in-one platform could save on component costs. Some Snapdragon iterations also come with 4G LTE compatibility, though the publication claims that Apple will stick to 3G for its initial low-cost iPhone.
Additionally, the Chinese publication said Renesas Electronics will produce the device's LCD drivers, while NAND flash memory will be sourced from Toshiba, Elpida, Micron Technology, SK Hynix and SanDisk.
Rumors of a Snapdragon-based iPhone first arose in January, with the firm's dual-core and quad-core SoCs cited as possible candidates for the as-yet-unannounced handset.
Most recently, well-connected analyst Ming-Chi Kuo predicted that Apple would introduce a low-cost iPhone boasting a hybrid fiberglass/plastic case this summer alongside the next-generation "iPhone 5S," though no mention was made of a platform switch.