Tweaked Apple TV features smaller custom A5 chip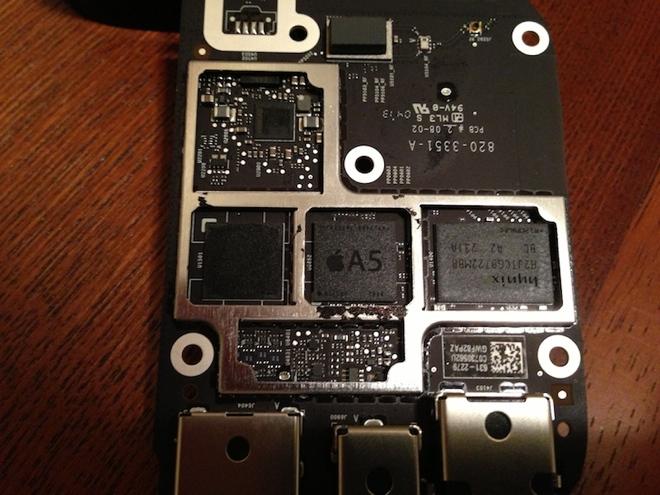 AppleInsider may earn an affiliate commission on purchases made through links on our site.
Speculation that Apple would add a more powerful A5X chip to its tweaked Apple TV proved false, as a look inside the new hardware has discovered it's simply a smaller version of the previous A5 chip.
The changes to the internal hardware of Apple's media playing device were discovered by MacRumors, which got its hands on one of the new Apple TV units. In taking it apart, they found a chip labeled A5 which is "considerably smaller" than its predecessor.
Their measurements found that the new chip is 6 millimeters by 6 millimeters, which compares to a size of 8.19 millimeters by 8.68 millimeters.
Apple has gradually shrunk the A5 chip since it first debuted in the iPad 2 in 2011. That version was even bigger than the shrunk model that appeared in the third-generation Apple TV in 2012, and now its footprint has been reduced even further.
The U.S. Federal Communications Commission had tipped that Apple was planning to release a new Apple TV in January. In reading details of the device, some speculated that Apple would switch to the more power A5X chip, which was introduced with the third-generation iPad.
As rumors of a major overhaul of the Apple TV hardware began to grow, Apple made a rare public comment about forthcoming hardware and revealed that the new product would simply feature minor tweaks, rather than a total redesign. The new model has been identified by the ACC is "A1469."
Continued efforts to shrink Apple's custom mobile processors could be setting the stage for the company to introduce a 28-nanometer chip produced by Taiwan Semiconductor Manufacturing Company. Rumors have suggested Apple is interested in switching its chip production from rival Samsung to TSMC, and that company is pushing its 28-nanometer process for 2013.