Munster, Siegler, Agreda talk iWatch, iTVs, and Apple's 'groove'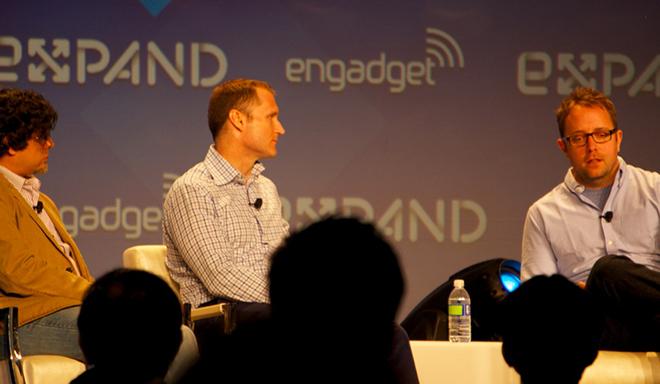 The recent media trend of negative news on Apple is just a phase that will pass according to analyst Gene Munster and pundit MG Siegler, both of whom agree that the coming months will see Apple getting its groove back with a refresh in its product lines, as well as perhaps some new products.
Siegler and Munster spoke on a panel along with TUAW's editor-in-chief, Victor Agreda, with all parties agreeing that Apple's sales figures fly in the face of the negative coverage the company has been receiving of late. Part of the problem, Siegler contended, was the considerable success the company has achieved over the past few years.
"I'd say it's mostly a media-driven anomaly right now," Siegler said of the current perception of Apple. "There's definitely some truth to the idea of, you know, success: You're as high as you can go. Where can you go from there?"
Munster backed up Siegler's assertion, saying that a lull in Apple product releases, in combination with a shakeup in the company's corporate structure, may give the impression that the iPhone maker is in trouble.
"I think it's a cycle," Munster said. "They had an abnormally large amount of products that were released at the end of the year. So I do think that that, mixed with the executive shakeup, is changing way that their products are released."
All three panelists agreed that Apple must move to address the low-cost smartphone market in order to continue growing. Munster was upbeat on Apple's chances going forward.
"I think the international markets, the lower-cost markets," Munster said, "are the biggest reason to be excited about Apple over the next few years. They can't continue to expand like this with their current prices. Two hundred dollars in a lot of markets is a ton of money, and I think Apple historically hasn't been very sensitive to that, but they're waking up to that fact."
Munster also went on to discuss the long-rumored Apple TV, saying that checks with his sources, in addition to Apple executive comments, made him certain that the company is working on such a device. The Piper Jaffray analyst said that talks with persons close to Apple lead him to believe that the company is building a television, but that it's simply a question of when it may be released. Asked to hazard a guess, Munster provided a movable target.
"We think it's six months after the App Store comes to Apple TV," Munster said. "Our best guess is that it's late this year. We don't have it in our model right now, but we think it will be announced by the end of this year."
Munster cited a survey conducted by Piper Jaffray, in which respondents were asked if they would purchase an Apple TV. According to Munster, about 50 percent of respondents said they would be interested in buying such a device. When asked if they would still be interested in such a device at a $1,500 price point, that number dropped to 12 percent. Still, Munster holds, the fact that so many were interested in the hypothetical device bodes well for Apple.
The rumored iWatch, which recently drew attention away from a possible Apple TV, was also seen as an area of interest. The commentators agreed that wearable computing could represent a significant area of expansion for the Cupertino company, and even a long-term replacement for the iPhone; Apple, though, would have to solve the battery problem before such a device could replace its best-selling product.