Steve Jobs satirical biopic starring Justin Long from 'Mac vs. PC' ads to debut in April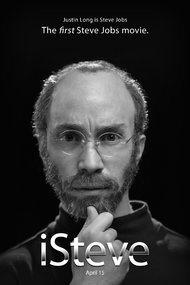 AppleInsider is supported by its audience and may earn commission as an Amazon Associate and affiliate partner on qualifying purchases. These affiliate partnerships do not influence our editorial content.
Web comedy site Funny or Die recently announced that it will be releasing a "iSteve," a 60- to 75-minute parody-style biopic centering around Apple cofounder Steve Jobs, with Justin Long taking on the title role.
With an online release date slated for April 15, the "biopic poking fun at biopics" is Funny or Die's longest project to date, reports The New York Times, and will be the first of three movies about the tech guru to see wide release. It was announced last week that the Ashton Kutcher vehicle "Jobs" had been pushed back, while a big-budget Aaron Sorkin film isn't scheduled for completion for years.
"We might not be the best, but we will be the first," said Ryan Perez, writer and director of "iSteve."
While taking jabs at Jobs, even lightheartedly, may cause some diehard fans to cringe, the short movie's producer Allison Hord said the tone was such that "even the harshest fanboy critics will be able to laugh with us."
Starring in "iSteve" is Justin Long, a veteran of the big screen and former ad-man for Apple's "Mac vs. PC" campaign. James Urbaniak is said to play Bill Gates, while Michaela Watkins takes on the role of Melinda Gates. Playing Apple cofounder Steve Wozniak is Jorge Garcia of "Lost" fame.
As is the case with most Funny or Die projects, "iSteve" is not meant to be a serious biographical work.
"In true Internet fashion, it's not based on very thorough research — essentially a cursory look at the Steve Jobs Wikipedia page," Perez said. "It's very silly. But it looks at his whole life."