Killer deal: 13" MacBook Pro with Retina display falls to $1299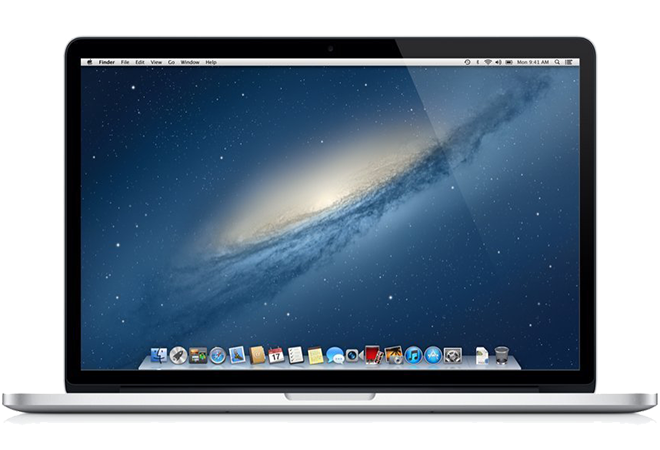 AppleInsider may earn an affiliate commission on purchases made through links on our site.
Portable Mac prices continue their downward trend, as one authorized reseller has dropped the price on Apple's entry-level 13-inch MacBook Pro with Retina display to just $1,299, a savings of $200.
The steep price cut was initiated by MacConnection, which is currently offering the 13-inch Retina MacBook Pro with 8 gigabytes of RAM and a 128-gigabyte solid-state drive for under $1,300 — the lowest price seen yet on Apple's high-resolution notebook. The same machine, which sports a 2.5-gigahertz Intel Core i5 processor, sells for $1,499 new when purchased direct from Apple.
Inventory of the thin-but-powerful professional-grade machine is available, with MacConnection advertising that new orders will ship today.
Continued price cuts from third-party resellers come after Apple itself was prompted to slash the suggested retail price of its high-end notebooks when new models were launched in February. At Thursday's sale price, the 13-inch MacBook Pro with Retina display is considerably cheaper than when the notebook first went on sale for $1699 just last October.
In fact, Thursday's discount represents a $400 drop from the notebook's original price from just six months ago. But prices still haven't reached the level of Apple's legacy 13-inch MacBook Pro, which includes an integrated disc drive and thicker frame while lacking a high-resolution Retina display. The 2.5-gigahertz legacy MacBook Pro is available direct from Apple for $1,199, while the lowest reseller price is offered by B&H for $1,075.
Increasingly aggressive discounts on Apple's MacBooks come after the company failed to outgrow the overall PC market for the first time in years during its holiday quarter. Apple's 4.1 million Macs sold in the December frame was down from 5.2 million in the same period a year prior.
Apple's executives attributed shrinking sales to severe constraints of the new all-in-one iMac that debuted in December. The company began to catch up with demand earlier this year, and domestic sales data tracked by independent firm the NPD Group has shown that overall Mac sales have rebounded accordingly.
Still, the steep curve on which Retina MacBook Pro sales have dropped suggests that consumers may not have embraced the premium pricing with which Apple originally began to sell the notebooks. Even before Apple slashed the official prices by $200, resellers were offering their own discounts in an apparent effort to spur sales.
The full range of discounts offered by Apple's authorized resellers on MacBook Pros can be seen in AppleInsider's Mac Price Guide, a snippet of which is included below.