Supposed Apple 'iPad 5' rear casing again shows mini-like design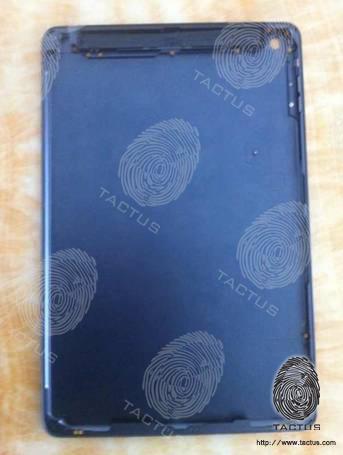 The last few months have seen multiple leaks hinting at the design of Apple's next iPad, but now a picture released to the Internet purports to show the actual rear casing of the tablet, again suggesting Apple may adopt an iPad mini-like design for it's next full-size offering.
The image showed up Monday on tech blog Tactus, which last week showed off both a supposed low-cost iPhone shell and new cases said to be designed to the specs of the next iPad. Monday's image appears to largely match the design aesthetic seen in those leaked cases, as the rear casing shown keeps the look of Apple's iPad mini.
Aside from the image, the post suggested that the next iPad will retain its 9.7-inch screen size, but with much thinner bezels. It may also contain an A7X chip.
The report also holds that Apple use a thinner LED backlight, allowing for a lighter design, as was previously rumored. The company may also be leveraging Indium gallium zinc oxide (IGZO) displays in its next iPad. Likely provided by Sharp, these displays can pack twice the resolution of a conventional LCD screen with up to 90 percent power savings.
Well-connected analyst Ming-Chi Kuo indicated last week that Apple's fifth-generation iPad will be 25 percent lighter and 15 percent thinner than the previous third- and fourth-generation designs. The slimness will reportedly come from new GF2 screen technology, a change from the current iPad's GG touch tech.
Improvements in performance are also expected to allow Apple to utilize smaller batteries within the next iPad, which will result in a significant reduction in weight. The weight is rumored to be around 500 grams, down from the 650-gram size of the current fourth-generation model.
Introduced last fall, the iPad mini featured thinner bezels and a more curved casing than the full-size iPad. It also sports stereo speakers on the bottom of the device, as opposed to the single speaker located on the rear of the current iPad.