The bizarre campaign against Apple's Tim Cook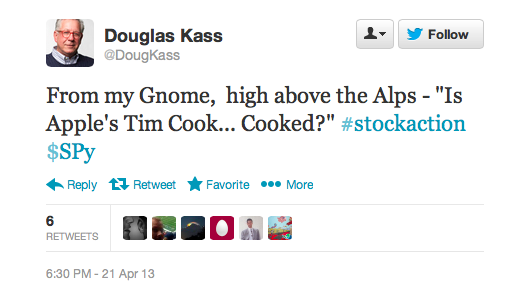 A snowballing new "whisper campaign" is targeting Apple's chief executive Tim Cook as being poor choice to run the company and a likely candidate for replacement in the months following its most successful quarter ever.
The latest rumor, tweeted by Doug Kass, attributed a "cooking" of Cook to an alpine gnome source. Kass gained notoriety just two months ago for making a similar prediction that Apple would split its stock, before admitting that such a split would be impossible.
Kass didn't invent the idea that the chief executive of the world's most successful, profitable public company was being targeted for removal, any more than he invented the idea that Apple could split its stock. He merely repeated an idea that's been gestating for some time.
Trouble at the top?
Last September, Apple's stock price was above $700 and analysts were anticipating it would soon pass $1000, making it the first public company ever valued at over a trillion dollars.
Cook, who was hired by Steve Jobs in 1998 to turn around Apple's global operations, has been instrumental in managing the company's precision supply chain and exceptional efficiency in building and shipping products around the world that led to such a valuation.
Yet after setting new records in quarterly revenues and profits and completely revamping nearly every hardware line with new products (establishing a new world's favorite smartphone with iPhone 5 and introducing a pair of what would become the world's favorite tablets with iPad 4 and the new iPad mini) Apple found itself under new scrutiny looking for signs of impending failure and crisis.
Among the dire threats to Apple's continued survival: while Microsoft, Dell, HP, Nokia, Motorola, Palm, BlackBerry could hardly even be considered legitimate competitors anymore, there was still another company on earth selling lots of smartphones (and attempting to sell tablets): Samsung.
Also, several analysts have voiced concerns that Apple's margins might drop from twice the size of its competitors to being slightly less than twice that of the overall PC and phone industries it operates in. This might force Apple to make some adjustments to help it retain its roughly 75 percent share of the profits in the vast PC, smartphone, mobile software and media downloads markets it currently dominates. That's a task most chief executives would love to have.
Microsoft's Steve Ballmer is instead dealing with the implosion of its PC empire; BlackBerry's Thorsten Heins is similarly scrambling to claw his company back into relevance after replacing the beleaguered company's previous pair of "co-CEOs."
In the other direction, Samsung Electronics now has three chiefs after naming two new co-CEOs. One of them, JK Shin, demonstrated the new Galaxy S4 flagship before noting, "I'm not satisfied with our market share in the U.S."
Inventing crisis around Tim Cook
At this point, one might think Cook could simply go on vacation and set Apple's cash machine to run on autopilot. However, a series of targeted criticisms have named Cook as the man responsible for the failure of analysts to set reasonable expectations for his company, resulting in incredible stock slide over the past six months.
Targeted criticism of Cook first scored a hit last November, when Dan Lyons wrote the scathing article "What's it like to work for Tim Cook?" based on on comments by a man who'd never actually worked for Cook.
Lyons' article called Cook "a manager, not a leader," and frequently repeated the idea that Apple is now hated by nearly everyone, particularly its former core fans, and that it lacks a "sustainable business culture.""I've also spent the past few years writing 'articles' that were less and less interesting — they were basically just SEO chum thrown out onto the internet in hopes of catching traffic" - Dan Lyons
A few months later, Cook's ability to lead Apple is being criticized by a variety of sources. Lyons isn't still writing about Cook however; he's now done with the "media business."
"I've also spent the past few years writing 'articles' that were less and less interesting — they were basically just SEO chum thrown out onto the internet in hopes of catching traffic," Lyons recently complained about his miserable journalism career, following a stint mocking Apple's previous chief executive under the handle "Fake Steve Jobs.'"
There's remarkable hubris involved in describing Apple as a troubled company, saddled with the world's most popular products that it struggles to manufacture at a pace to meet demand while at the same time pulling in the greatest profit margins of any tech company. But describing Cook as a "poor fit" for leading Apple makes other criticisms of the company look downright reasonable.
Writing as a contributor to Forbes, career columnist Gene Marcial wrote just days ago, "there's a move by some at the company to search for someone with credible credentials and superb tech qualifications to take over and turn things around."
Incredibly, he was writing about Apple.
The problems that need to be addressed, according to Marcial, are its incredible stock slide since last September and the loss of "some $290 billion of Apple's market value" that "has been wiped out in just six months." Also a problem: "lamentable slowed growth."
Given that the core problem with "slowed growth" is that Apple now owns almost all of the profitable segments of the PC and phone industries, it's hard to imagine how it would be easier to find a new chief executive than to identify new markets to dominate, and why attacking the company's leadership would make any sense.
Making even less sense is Rob Enderle, who asked his readers, "Given JCPenny [sic] just ousted Apple alum Ron Johnson as CEO for losing a tiny fraction of what Cook has lost, why is Cook still CEO?"
In reality, JC Penney ousted Johnson after giving him just over a year to remake the troubled retailer, then panicking after observing a serious decline in sales and profits during the transition.
Cook hasn't presided over any loss in revenues or profits. Instead, as Cook announced just three months ago, "we're thrilled with record revenue of over $54 billion and sales of over 75 million iOS devices in a single quarter. We're very confident in our product pipeline as we continue to focus on innovation and making the best products in the world."
This all happened before
Enderle, parroting a variety of investors, was trying to blame Apple's stock slide on Cook, as if the chief executive sets the company's stock price. Cook's predecessor Steve Jobs once noted that it's not really the job of a chief executive to attempt to manage short term fluctuations in a company's stock.
When asked by Jim Goldman of CNBC, back in mid 2008, why Apple's stock had fallen from nearly $200 down to a low of $117 before rebounding to $185, Jobs simply replied, "I think we've done pretty well for our stockholders over the past decade, and I would just encourage them to trust us. Maybe we know what we're doing."
Asked about the "strange and bizarre roller coaster ride" that afflicted Apple back in 2008, Jobs answered, "we've been having record quarter after record quarter, so we're very pleased with how the company's doing."
Apple had just released its second model of iPhone at a new price point $200 less than the original, and had so far "only" sold 6 million units of its new smartphone. Investors at the time were reportedly worried that a cheaper price could eventually hurt Apple's revenues at some point down the road, a fear that today appears hysterical in hindsight.
Jobs added, "you know, Wall Street: I've never been able to figure out Wall Street. But someone once told me manage the top line, which is, your strategy, your talented people and your execution, and the bottom line will take care of itself. And I've always found that to be the case. So, we're turning in record quarter after record quarter, and Wall Street eventually comes out in the right place."
Within six months of Jobs' comments, Apple stock fell to $82. A year later it was back up to $200. The next year it hit $322, then $422 the following year before peaking above $700. Apple started this year at $527.
Apple will report its quarterly results tomorrow.