Apple giving away 150 WWDC tickets to up-and-coming student coders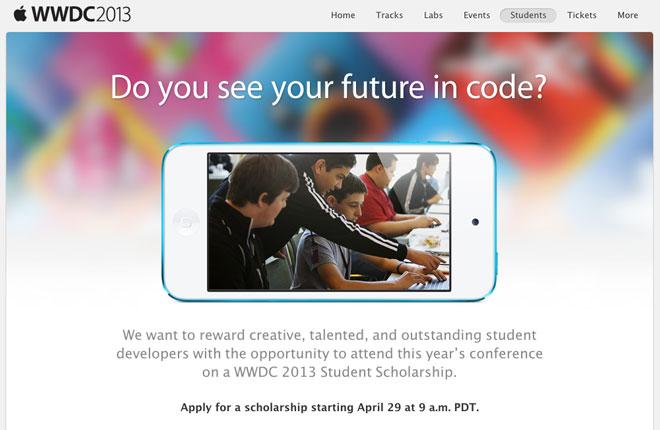 Alongside the announcement of its Worldwide Developers Conference on Wednesday, Apple also laid out rules for a "scholarship" that will grant 150 students aged 13 and above to attend the annual event.
A link prominently featured at the top of Apple's main WWDC 2013 webpage points to the official "Students" section, which details the scholarship, eligibility, submissions and restrictions.
Interested full of part-time students must submit a self-built app that highlights an entrant's development projects, educational and professional background, technical skills, and interests. An essay is also required, and Apple appears to be putting an emphasis on creativity:
From the official rules regarding application judging:
"Submissions will be judged on technical accomplishment, creativity of ideas expressed in the app and essay questions, and technical/work experience. If there is a tie between applicants in the final judging process, Apple will base its final decision on the creativity of ideas expressed in the Student Scholarship application."
Eligible students must also be paid members of the iOS Developer Program, iOS Developer University Program, iOS Developer Enterprise Program, or Mac Developer Program. Minors sharing a Registered Apple Developer account with a parent are also allowed to apply.
Entries be taken from April 29 at 9 a.m. Pacific to May 2 at 5 p.m., with results going out on May 16.