Windows 8 tablets grab 7% of shipments, Apple's iPad still controls nearly half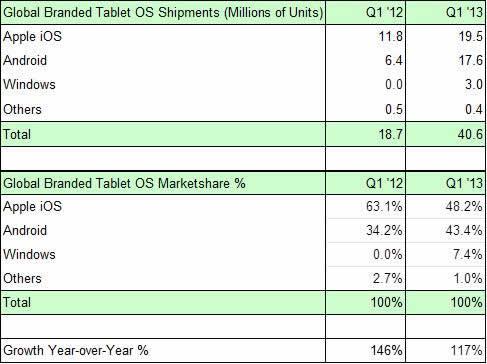 Apple's iPad offerings continue to dominate the tablet segment, but tablets running Windows 8 have had a small impact, accounting for one in fourteen tablets shipped in the first quarter of 2013.
Global tablet shipments in the first quarter of 2013 hit 40.6 million units, according to new figures from Strategy Analytics. Of those, Apple's iPad and iPad mini accounted for 19.5 million units, or 48.2 percent of the market. That figure is down from the same quarter a year ago, when the iPad had 63.1 percent of quarterly shipped units.
The difference this year: increasing competition. From Google's Nexus 7 to Samsung's Galaxy Note 8.0, the Android tablet segment has grown from 34.2 percent of shipments last year to 43.4 percent of shipments for this quarter. The three months from January through March saw 17.6 million Android tablets shipped, narrowing the shipment gap between Android and iOS quickly.
Microsoft's Windows 8 platform is also a relatively new entrant into the tablet sector. Windows 8 tablets accounted for 7.4 percent of tablet shipments last quarter, or three million units. Less than one-sixth the number of iPads shipped, the platform's sales figures are a disappointment for Microsoft, which has found itself scrambling to regroup and retool its approach to the tablet market.
Still, the company and its partners now have a foothold in the segment, one from which they will attempt to expand Windows 8's footprint. While the traditional PC market is imploding, the tablet market is flourishing, having grown 117 percent year-on-year through the first quarter.
Strategy Analytics' figures are based on shipments, and not necessarily indicative of sales through to consumers. Previous measures of web traffic show Apple's iPad leagues ahead of the competition, regardless of projected shipment numbers.