Report: Apple supplier Foxconn still exceeding work hour laws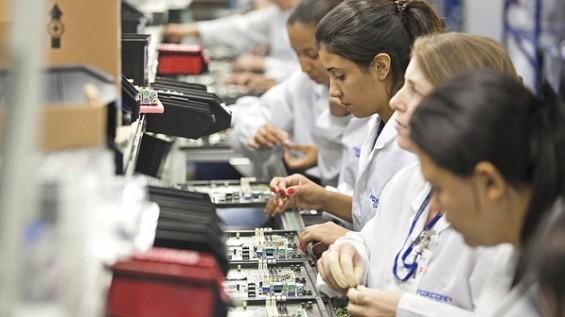 Hon Hai Precision Industry has made some strides toward improved labor conditions, according to a new report, but the Apple supplier is still working its employees more than Chinese labor law allows.
The Fair Labor Association on Thursday released its latest evaluation on Hon Hai's (better known as Foxconn) labor practices, reports The Wall Street Journal. The FLA, a group of which Apple has been a member since 2012, found that Foxconn had complied with 98.3 percent of 360 suggested action items from the labor watchdog's last evaluation.
Where the Apple supplier fell short was in working hours, an area Apple has been pushing for its suppliers to improve. Apple's supplier code mandates a 60-hour maximum work week, but Chinese law limits the workweek to 40 hours, with 36 hours as the maximum amount of overtime per month.
Foxconn and Apple agreed to reach compliance with Chinese law by July 2013. The report, though, found that Foxconn workers were working between 40 and 60 hours per week in two facilities and between 40 and 70 hours per week at another during the weeks leading up to the launch of the latest iPhone. Those facilities employ an estimated 170,000 people.
Foxconn has made considerable progress in other areas, though. The Chinese firm improved compliance in most actionable areas, making changes to its intern policy, protecting workers from excessive heat, and building more fire escapes and toilets. The union participation rate at Foxconn facilities also improved significantly, with the percentage of worker representatives in main union committees growing from 20 percent to 40 percent.
Apple has continually pressed its suppliers to improve their labor operations over the past few years, going so far as to terminate a contract with one supplier found to be using underage workers. Among Apple's suppliers, 99 percent of the more than one million-strong workforce do not work excessive hours.