Apple reports 99% of its suppliers comply with 60-hour workweek limit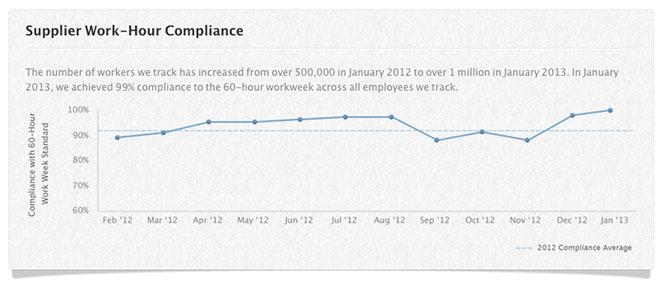 AppleInsider is supported by its audience and may earn commission as an Amazon Associate and affiliate partner on qualifying purchases. These affiliate partnerships do not influence our editorial content.
Apple on Wednesday updated its Supplier Responsibility webpage to reflect a change in how manufacturers deal with the company's 60-hour workweek limit, noting that a 99 percent rate of compliance was achieved in January.
According to Apple's Supplier Work-Hour Compliance study, which as of January 2013 tracks over one million employees, the 99 percent compliance rate factors into a 92 percent average of suppliers that adhered to the company's Code of Conduct over all work weeks. Over the same period, the average time an employee worked per week was under 50 hours.
As noted by UK tech site V3, Apple limits normal working time to 60 hours a week except in "unusual circumstances," like seasonal high demand or ramp up for new products.
Worker protection laws in China, where a bulk of Apple's suppliers are located, mandate that employers pay overtime wages to employees working over 40 hours per week. In addition to the Chinese rules, Apple requires that all overtime hours must be voluntary.
The latest monthly update comes on the heels of a report that said Apple manufacturing partner Foxconn initiated a hiring freeze until the end of March. At the time, it was speculated that the move was related to slow iPhone 5 sales, but those rumors were dispelled and the freeze was blamed on the unusually high number of employees who returned to work after the Chinese New Year.
Apple's report is part of ongoing efforts to improve workplace conditions in its suppliers' factories. In January, the company released its yearly Supplier Responsibility Report, which showed improvements in health and safety, labor, and environmental concerns.