Penguin agrees to $75M settlement in Apple iBooks price fixing lawsuit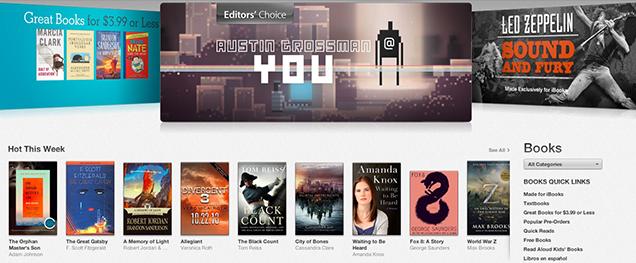 Book publisher Penguin announced on Wednesday it has reached a $75 million "comprehensive agreement" with U.S. State Attorneys General and private class plaintiffs over e-book price fixing allegations connected to Apple and its iBookstore for iOS.
If accepted, the settlement will resolve all antitrust claims against Penguin related to e-book pricing. In a press release, Penguin's parent company, Pearson, noted it had made a $40 million provision for settlement in its 2012 accounts.
Penguin already reached a separate settlement in December with the U.S. Department of Justice. Wednesday's latest agreement is related to the 33 individual states that joined in the antitrust suit.
The publisher also offered in April to end its e-book pricing agreements with Apple to appease regulators in the European Union. That deal allows retailers to set prices and discounts on digital books for two years.
Penguin was among five publishers who came under federal scrutiny after they agreed to a so-called "agency model" pricing agreement with Apple. Under that deal, the publishers were allowed to set fixed prices for content.
That was a change from the "wholesale model" preferred by online retailer Amazon, under which publishers suggest a price and booksellers are free to set their own prices and offer their own discounts. But publishers felt Amazon's low-margin strategy, in which the company would frequently undercut suggested prices, was harmful to the overall book selling business.While publishers have settled, Apple has held out, and the DOJ's civil trial is scheduled to begin on June 3.
Regulators, however, viewed the industry-wide switch to the "agency model" driven by Apple's iBookstore was harmful to consumers, prompting the antitrust lawsuits. While the publishers have reached settlements, Apple has chosen to stand its ground, and remains the subject of a DOJ complaint in the U.S. that is scheduled to go to a civil trial on June 3.
In court filings made last week, the DOJ accused Apple of being a facilitator in alleged collusion with major publishers to fix e-book prices. For its part, Apple has denied the allegations, saying it drafted separate consumer-friendly agreements with each publisher.
Last week the DOJ also published an email sent by late Apple co-founder Steve Jobs to then CEO of News Corp. James Murdoch. In the note, Jobs suggested that News Corp's HarperCollins simply "try" pricing titles at $12.99 and $14.99, but offered no assurance that the strategy would work.
"Heck, Amazon is selling these books at $9.99, and who knows, maybe they are right and we will fail even at $12.99," Jobs wrote. "But we're willing to try at the prices we've proposed. We are not willing to try at higher prices because we are pretty sure we'll all fail."
Following the announcement of Penguin's proposed $75 million settlement on Wednesday, Hagens Berman Sobol Shapiro, a consumer-rights law firm representing consumers in the case, issued a statement:
"This proposed settlement is a powerful demonstration of what is possible when federal, state and private class antitrust enforcement lawyers work together," said Steve W. Berman, managing partner of Hagens Berman. "In this case, the level of cooperation was unprecedented, and the results that we were able to deliver to the states and consumers demonstrate that."